Ta Prohm Temple Visit in Cambodia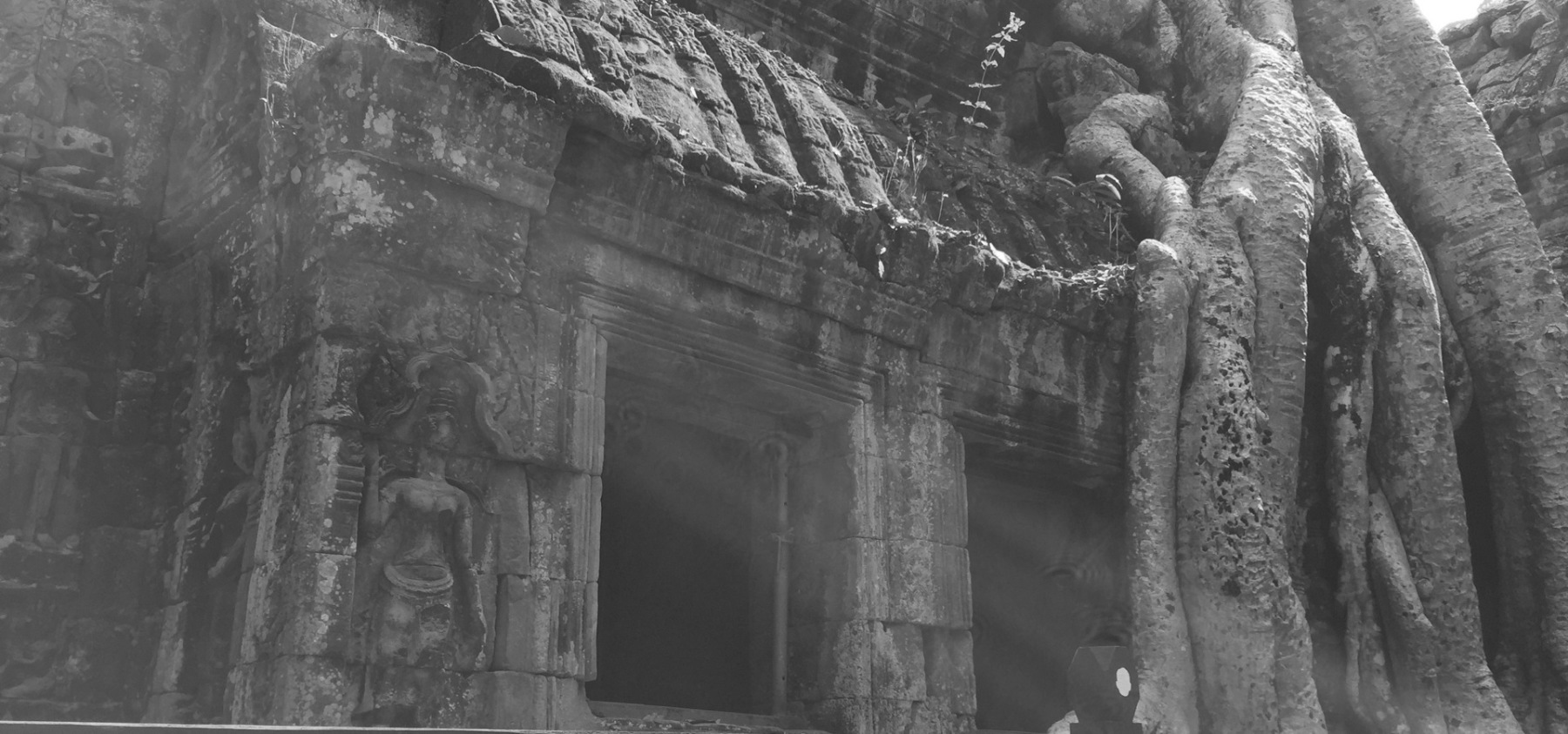 My mom and I just spent 6 days in Siem Reap, Cambodia. One of the temples we visited was Ta Prohm; we almost skipped it because we had already had a long, hot morning at Angkor Wat, but I'm glad we made it. Ta Prohm is one of the "big 3" temple visits, along with Bayon and Angkor Wat, for a reason. It's beautiful and fascinating to see how the jungle has merged with the temples over time.
We visited in the early afternoon, and the sun was quite harsh for taking photos. However, when I put some of the shots in black and white, I found they gave off the same tone and feel of the temples when we visited. Here are some of my favorites.
Getting There
Ta Prohm is in Angkor Archaeological Park. You need a temple pass to go in, and any tuk tuk or taxi driver can drop you off at the entrance. It's about a 10-minute walk through the jungle to the temple, and you go in on one side and can walk out the other. Both sides have musicians playing traditional Khmer music; donations are accepted.
You can easily explore by yourself, although having a guide would be helpful if you want to learn more about specific features of the temple.
Bringing Kids
We did the Siem Reap trip without kiddos, but here are some tips if you plan on bringing kids along. You can use a stroller from the entrance up to the temple, but it would be impossible to use it inside. There are a lot of stairs and small, dark spaces to walk through. Your best bet would be to park the stroller at the entrance near the ticket minder, and then use a baby carrier for the little ones.
My four-year-old would not have been able to visit Ta Prohm. It is a large temple, and you could easily get lost inside. It's a bit like a maze. If he ended up having a meltdown, we could be stuck in there until random strangers helped carry him out. I will probably wait until my kids are about 10 for Ta Prohm.
There are limited facilities at the parking areas with basic toilets; some are western style. Bring your own paper. You can buy bottled water from the vendors outside the gates, but you won't be able to buy anything once you head into the jungle.
Reader Tips
Have you been to Ta Prohm? Share your tips below.