Saigon Getaway: Vedana Lagoon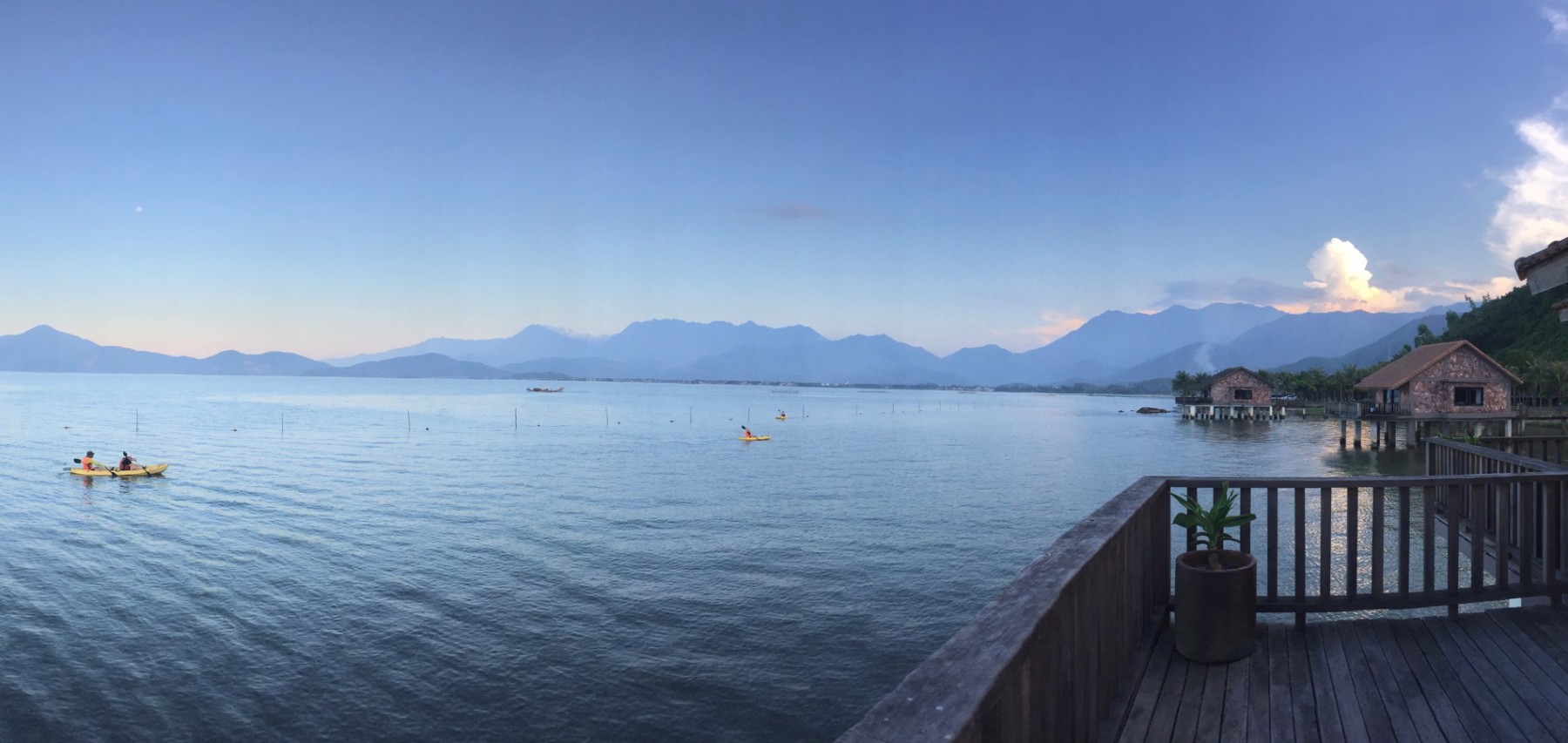 Vedana Lagoon is my new favorite Vietnam getaway. After five years of living and traveling in Vietnam with children, I have not found another resort with the level of service, attention to detail, delicious food, gorgeous setting, and well-appointed accommodation.
This is the quiet, relaxing, tropical paradise that you see in all the Southeast Asia travel magazines, but is elusive to find due to the general lack of service industry training and the domestic travel market's love of kitsch decor.
Regular readers know that I'll be moving in India in just two months. The experience at Vedana was so lovely, and my children enjoyed it so much, that I'm scouring my calendar and travel budget for a chance to go back.
Getting There
Visiting Vedana Lagoon is an easy Saigon getaway because there are lots of daily flights in and out of Hue. The flight itself is just about 45 minutes. If you book ahead, you can fly via Vietnam Airlines for a similar price to the budget airlines VietJet or JetStar, and your price will already include checked luggage. After almost five years in Vietnam, I've had enough negative experiences on the cheapies that I avoid VietJet and JetStar whenever I can.
We chose a flight that left at 1755 on a Thursday evening, so it was perfect to start a long weekend. Our return flight left Hue (HUI) at 1820, which was great timing to get the kids back for a reasonable bedtime. More Vietnam Airlines flight options here.
From Hue airport, the drive to Vedana Lagoon is about 30 minutes. We booked a transfer via Exo Travel, a company I've used before in the Hue area and for organizing school trips around Vietnam. You can also organize transfers directly with the resort. At the time of booking, Vedana staff quoted 650,000 VND (approx $29 US) for up to 3 people, and 200,000 VND ($9 US) per person for 4 people and up. There is a 20% surcharge before 6am or after 10pm. You can arrange transfers from Danang for about double the price. Saigon has plenty of flight options in and out of Danang. It could be nice to go in this direction if you're arriving in the daytime and want to drive over the scenic Hai Van pass, or if you want to combine your Vedana Lagoon trip with Danang or Hoi An.
Staying There
Vedana Lagoon Resort & Spa has eight different accommodation categories, each with lovely views of the lagoon from the waterfront or the hills above. The most affordable category is the Waterfront Deluxe Rooms which are just a short walk from the pool/restaurant area and excellent value for couples or families with kids. I found Agoda to have the best descriptions of all the rooms types at Vedana Lagoon, and if you can catch a 70% off flash deal, the booking prices are a little lower than the discounted rates you can get by booking directly.
All are spacious and suitable for families with children, although with toddlers and crawling babies, I'd suggest staying on land rather than in the over-water villas. We were lucky to get an upgrade from the Family Lagoon View (2 connecting bedrooms) to the Pool Aqua Bungalow, an over-water bungalow with 2 separate bedrooms and a private pool in between.
We also got to check out a Lagoon View Bungalow (one bedroom, hill location), which had a gorgeous terrace and huge bathroom. It's the ideal type of room for families with kids, because you can put your kids to bed and sit out on the terrace without disturbing them or feeling like a prisoner in your dark hotel room. The bungalows include a couch which is a good size for a child to sleep on comfortably.
Exploring
The resort is quite spread out, however there are bicycles for use at each villa or room, and you can always call a resort buggy to pick you up. The smallest size bicycle is suitable for a 6+ child who already knows how to ride a bicycle well. My son was a bit too small for the bicycles on the lowest seat setting, as he could not touch the ground, however I saw other kids his age zooming around. I was able to get bicycle with a child seat on it for Arianne, however the reception staff did inform me that these seats are popular and not always available. We mostly walked and used the buggy, which would be at our door within minutes of calling reception.
With just a one night stay, we spent all of our time at the resort and did not want to leave, even for a minute! If you stay longer, try these area activities:
Hue City Half Day Tour – Kids 5+ would enjoy running around the Citadel, climbing the steps to Thien Mu Pagoda, and taking a dragon boat trip on the Perfume River to see an arena where tigers and elephants used to battle. Best done early morning before it gets hot, as there is little cover from the sun at these attractions. The Citadel opens at 8am.
Evening in Hue – Rent a cyclo to cruise around the Perfume River at sunset before heading to a Dragon & Martial Arts show at Ancient Hue Restaurant. You can book "cyclo and foodie tours" if your kids are adventurous eaters.
Elephant Spring waterfalls and swimming hole is another half-day trip option. Kids should be old enough to scramble up and down slippery boulders and keep their balance on small, wooden bridges made of planks. Looking at pictures of this place, I think 7 would be a good age if I wanted the kids to be able to enjoy the spring.
Bach Ma National Park – I have not personally visited this park, so I am not sure how accessible the trails are for young kids. You should bring your own snacks and water, and hire a guide from the park trailhead who knows where to look for langurs, gibbons, and the 249+ species of birds found in this diverse wildlife area.
A perfect next stop from Vedana Lagoon could be Hoi An, Alba Hot Springs, or Lang Co Beach.
Reflection
Vedana Lagoon is one place where I actually felt welcome as a tourist in Vietnam. All of the staff smiled and said hello while passing on bicycles, the reception was helpful, the restaurant staff were excellent, and everyone was aware of the needs of children.
Although we did not use it, the resort does have a kids club and babysitting service. The Kids Club is currently more like a playroom for children under 5, as supervision is not provided. However, the resort does plan to open a movie room and a library for older kids. If you wanted to have a half-day out without children, you'd need to book a babysitter in advance.
Vedana Lagoon's service was what impressed me the most. Unfortunately, more often than not at hotels and resorts in Vietnam, I feel like a nuisance who is 'bothering' the staff, rather than a paying guest. It is common here to order 5 things on the hotel menu, only to be told that 4 of them are not available. I'd almost given up on traveling domestically with the kids, as I found it frustrating and difficult to manage with all of the surprises. Vedana Lagoon was amazing in that the level and quality of service makes for a relaxing stay with young children. The spa was professional, and it was excellent value when you consider the jacuzzis, sauna, and picturesque refreshment lounge as part of the booking. Ingredients were natural, and treatments based on traditional Vietnamese as well as Ayurvedic practices.
The kids and I absolutely loved the buffet breakfast, especially the freshly baked donuts, still warm when we ate them. After a tough few days of spicy or deep fried Vietnamese cuisine at another resort, they could not stop eating the food at Vedana. The cocktails, as judged by the moms, were also high quality.
See a video compilation of our entire family weekend around Hue, Vietnam. We also stayed 2 nights at Alba Hot Spring Resort.
Use this link on Agoda to book at Vedana Lagoon, and the Expat Heather site will get a small commission to help keep articles like these coming!