Langkawi with Kids Travel Itinerary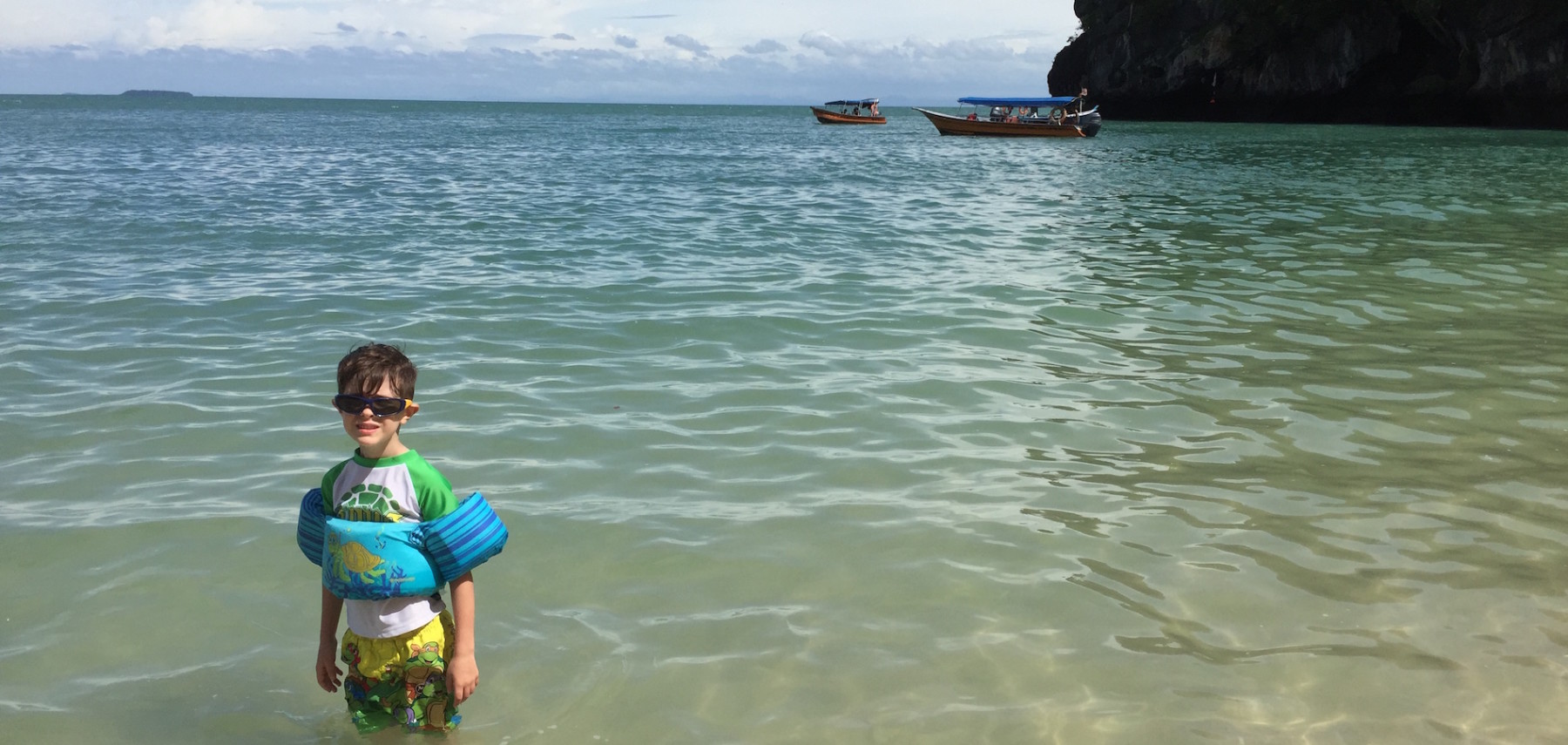 I spent five full days in Langkawi with kids for a Malaysia beach and wildlife vacation. I found Langkawi to be a perfect travel destination for young children (ages 2 and 5), as the island is small but there is plenty to do! The beaches were pretty much empty, and they had a wonderful time exploring. Here's what I recommend doing if you go to Langkawi with young children.
Day 1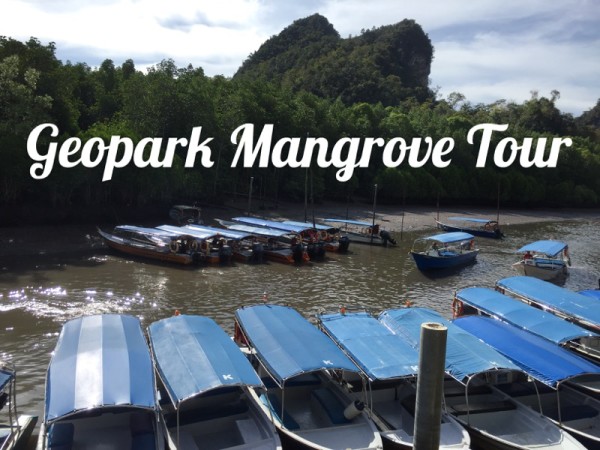 We took a tour from the Kilim Geoforest Park with Dev's Adventure Tours. In the Geoforest Park, you can see monitor lizards, eagles, monkeys, and mudskippers. Most tours also stop at the Bat Cave where you can see hundreds of bats. Our tour also stopped at an island beach and the Hole in the Wall floating restaurant. Half-day tours start with a 9 or 930am pickup and drop you off at your hotel around 2 or 3pm. It's a tiring day for young kids, so plan for naps or a quiet afternoon.
Mangrove tours also depart from the Kubung Badak River near Tanjung Rhu Beach. We had booked a river tour with Junglewalla, but unfortunately got rained out. If we go back to Langkawi, I'd love to try this tour!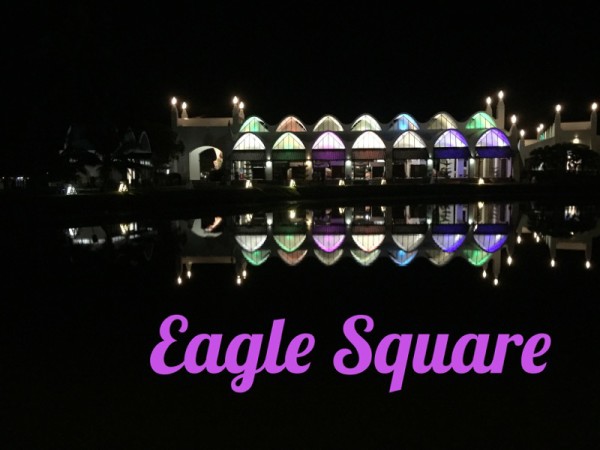 Exploring Eagle Square in Kuah town is a good activity to do in the late afternoon/evening if your kids are tired from the mangrove tour. You can get dinner, eat ice cream, walk around the shops, and take some photos with the giant eagle.
Day 2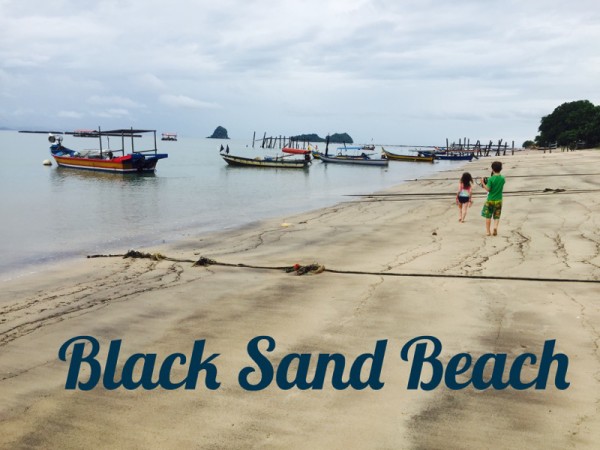 Our favorite day was spent exploring the beaches on Langkawi's northern coast. First, we went to Black Sand Beach or Pantai Pisar Hitam. The kids were really excited to see black sand, which on Langkawi is not volcanic in origin but rather comes from minerals present in the sand. We were the only ones at the beach, and the kids found several interesting pieces of coral and large seashells. The guide told us that it wasn't a great place to swim, however we did not see any trash in the water. I literally had to drag the kids away from this beach to go to the next one; they could have stayed all day.
You need to climb down a large flight of stone steps to get the beach. At the top of the steps are several small souvenir shops and a playground. We spent about an hour at the beach and the playground combined.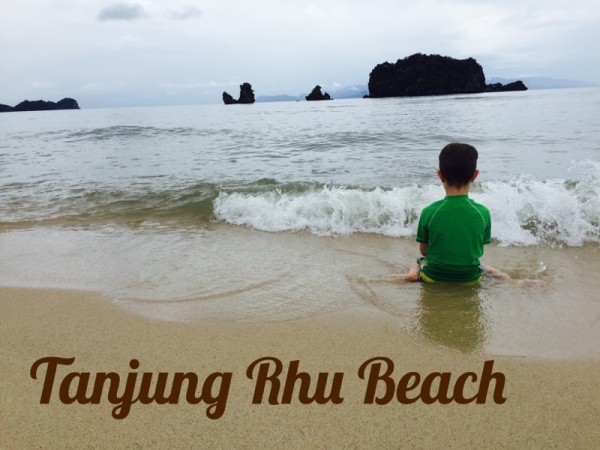 From Black Sand Beach, we went straight to Tanjung Rhu Beach. Two five-star resorts are situated here, but the beach is also open to the public. Again, it was pretty empty with just a few other families at the beach. The walk to the beach from the parking lot is just about 5 minutes, and there are no stairs at this beach, so it's very easy with kids. My kids said this was their favorite beach in Langkawi because they found a lot of shells. The water was shallow and calm, so they were able to go in the water without help.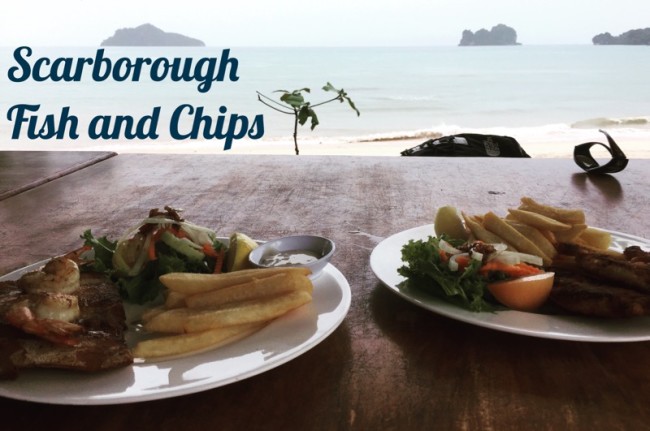 A five-minute drive from Tanjung Rhu is the lovely, beach side Scarborough Fish and Chips. This was my favorite meal in Langkawi, hands down. It took about 30 minutes to get the food, so I was glad I had the kids' sticker activity books, but the freshly prepared snapper for me and chicken cutlets for the kids were fabulous. They barely ate anything but rice on this trip, so I was very happy to see them eating chicken and vegetables! The restaurant has a wonderful view of Tanjung Rhu, and some tables are directly on the beach.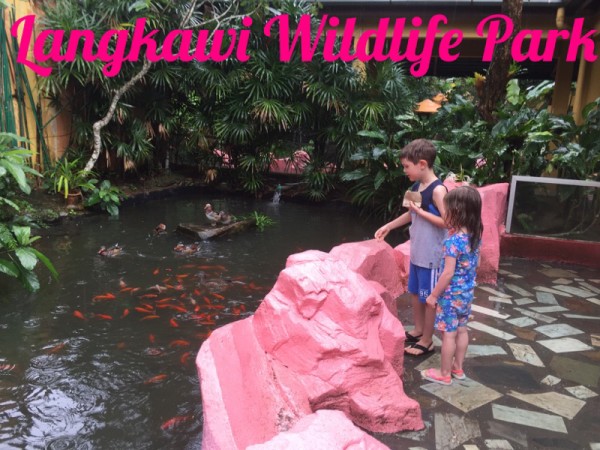 Our final stop on this trip was the Langkawi Widllife Park. We had pre-booked a car for 5 hours total, and we only ended up with 45 minutes to spend here, but we could have comfortably spent an hour and a half. The kids loved feeding the animals, and I thought it was cool how each animal had information about what it ate on its cage so the kids could sort through their bags and chose the right foods. The park is stroller-friendly, but it's small enough that we didn't really need it. My little one was pretty tired out from the morning at the beach though.
The most fun part for the kids was feeding the tiny birds in the aviary. They also liked seeing the pythons and feeding the flamingos. This itinerary could definitely be stretched out to an entire day if your kids don't need naps! You could also combine it with a relaxing afternoon in the hot springs at Air Hangat Village or a quick hike to Durian Perangin Waterfall.
Day 3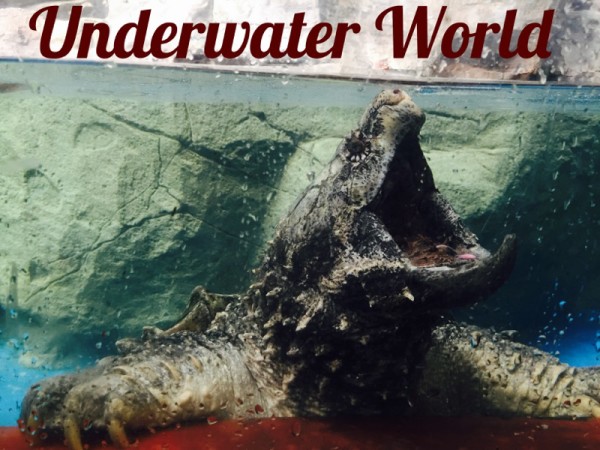 The activity my son found the most memorable from this trip was visiting Underwater World museum. It's a small, compact space that fits a lot in! We took about an hour to visit, and the highlights were the penguins, the giant octopus, and the giant crabs. The museum is well-paced for kids with a bathroom and small eatery in the middle of the route.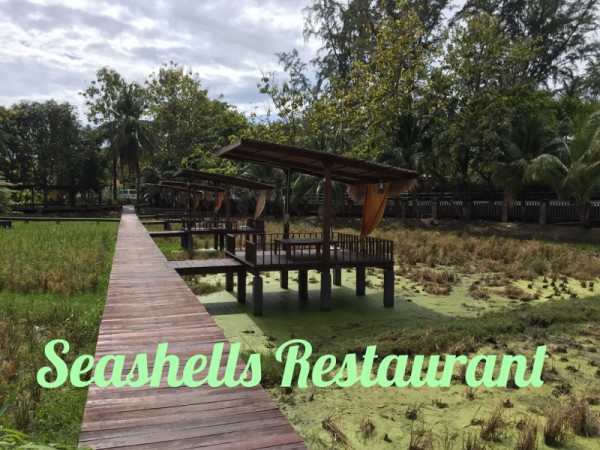 Just a few minutes' drive away is Laman Padi rice paddy museum and Seashells Restaurant. We sat right in the middle of the rice paddies and enjoyed a wonderful view. The food and the drinks were fantastic, although the food was quite kid-friendly, mine were picky eaters and just went for the rice and some veggies. We tried to tour the free rice museum, but it was extremely hot and not stroller-friendly. Also, there was nobody around to give the tour even though we did go in the afternoon when we thought it would be open. My suggestion: use this place as a lunch spot, and just take a quick walk around the grounds if your kids aren't too tired. Also, note that the bathroom is a 10-minute walk (at 2-year-old speed), so try to get everyone to go at once! We took 4 separate trips, and I was starting to feel a bit crazy spending 40 minutes of our lunch on bathroom breaks.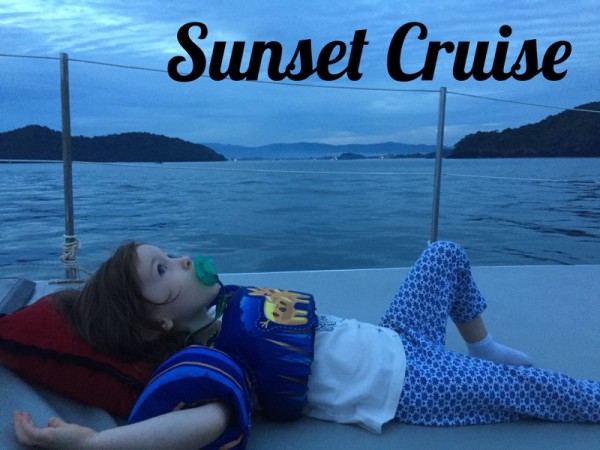 Although not cheap, a sunset cruise off the southern coast of Langkawi is totally worth it. We paid $93 total for one adult and one kid on Tropical Charters. My younger one was free of charge at age 2. The cruise departed at 5pm and came back at 8pm. The hotel pickup is at 4 or 430, so it's best to pair this activity with an easier morning, like the Underwater World Museum, as opposed to a Mangrove Tour. My best memories of Langkawi are from this sunset cruise, watching my two-year-old having a dance off with a guy on a neighboring yacht while the sun set behind the limestone karsts. There are other companies you can book with, however some seemed more 'party boat' and less relaxing than the one we chose.
Day 4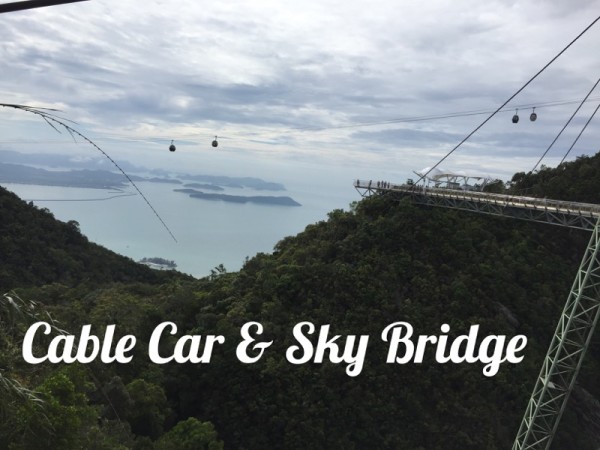 The Cable Car & Sky Bridge is a top attraction in Langkawi. I've written a detailed post about visiting the Cable Car with kids that you can check out for more details. It's a big activity, and tiring for the little ones, so make sure you don't over-plan for the day you'll visit here.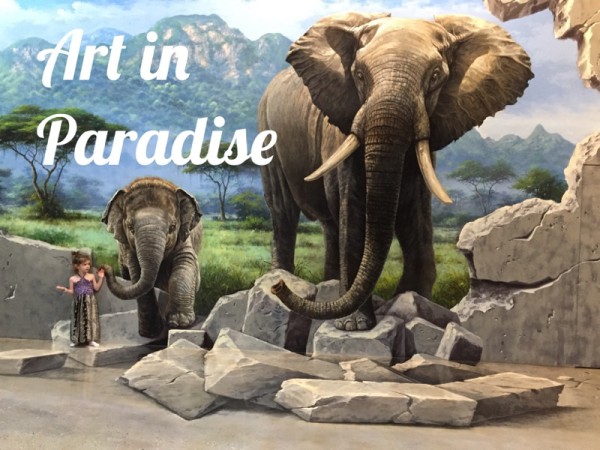 Within the same complex, and just a five-minute walk from the Cable Car ticket booth, is Art in Paradise, a fantastic and fun 3D Art Museum. I would go back with adults and enjoy it even more! We didn't budget ourselves enough time, and 45 minutes was a rush, but we did get lots of cool pictures before the kids got tired of me chasing them with the camera.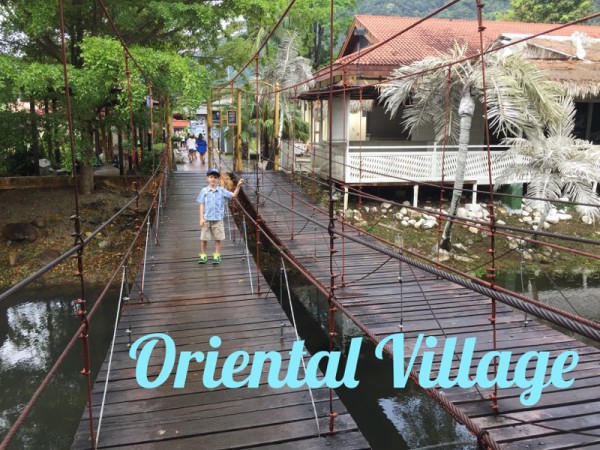 After these two activities, you can find a spot to eat in Oriental Village or stay around for more attractions. Oriental Village has lots of shops and activities, so if your kids are up for it, you can stay the whole afternoon here too.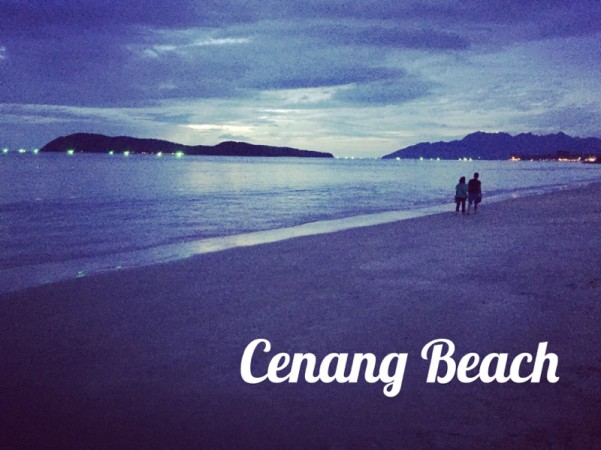 Cenang Beach is the most touristed beach in Langkawi. When we visited, a throughway road had just been turned into a pedestrian area, confounding the taxi drivers, and there was a lot of construction. The strip was not really walkable, and a lot of construction dust was circulating. That said, we didn't spend a lot of time at Cenang Beach except for a quick visit after sunset. However, if you can find the right spot of if you're staying in a hotel in this area, a relaxing afternoon and evening at the beach would be a nice activity to pair with a busy morning at Oriental Park.
Final Thoughts
Some feedback I got from my kids is that they would have loved more afternoons at the pool at Dayang Bay. Because we spent our first two days with one kid sick in the hotel, I crammed in a lot in our last 3 days. I've designed this itinerary to be what I would have liked to do, with a bit more time for naps, relaxing at the pool, and playing at the beach. I'd use a fifth day to go back to our favorite beach one last time or do another mangrove tour.
You can easily adapt this Langkawi itinerary for older kids. In the mangroves, take kayaks instead of a motorboat. For the sunset cruise, take jet skis island hopping instead. Do a multi-hour horseback ride in the jungle or on the beach with Island Horses. Hike up to some waterfalls. For a small island, there is a ton to do for all age groups. I'd love to go back someday, and my kids are already talking about it!