Hiring International Teachers in Ho Chi Minh City, Vietnam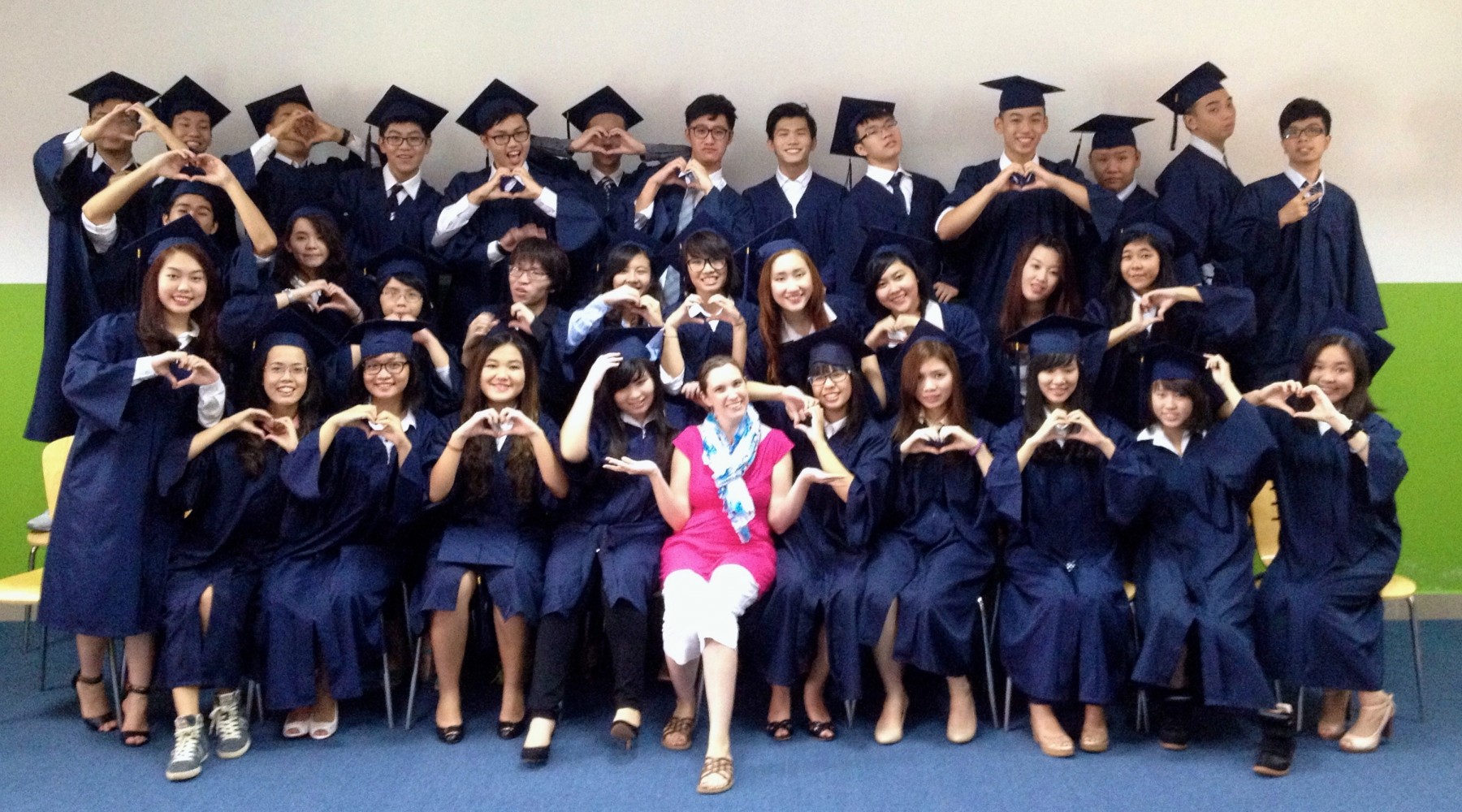 *Note this post was for the 2015-2016 school year. All positions have been filled.*
It's that time of year again, and ISHCMC American Academy in Vietnam has some open international teaching positions for the 2015-2016 academic year.
Our hiring committee consists of myself (Curriculum Coordinator), Mr. Eric Hamilton (Principal), and Ms. Jessica Maley (EAL Coordinator). If you are interested in living and working in Vietnam, here is the information that we have posted already on Search Associates. You do not need to be a member of Search Associates to apply.
About the School
ISHCMC American Academy is an American curriculum campus for grades 6-12. The ISHCMC-AA campus is located directly next to the main ISHCMC campus and serves approximately 250 students.
Our student body is made primarily of Vietnamese nationals with a wide range of English language proficiency levels. The ideal candidate will have experience with effective methods of working with English language learners to reach content, and will maintain a willingness to openly collaborate with the EAL Program Coordinator to deliver instruction and support according to student need.
Open Positions
We are looking for an educator to develop and implement a comprehensive Health Curriculum across grade levels 6 to 12. This teacher will also teach dance and yoga courses to middle school and high school students.

Filled Positions
The EAL Program Coordinator will fully support students regardless of where they are on the spectrum of language learning through systematically testing students and monitoring their gains and achievements in acquiring the English language. The EAL coordinator continuously provides research based teaching methodologies and strategies to create a foundation upon which students can succeed in English language studies. Knowledge of WIDA philosophy and framework and SIOP instruction is essential. Focus areas include: policies, curriculum, progress monitoring, instruction, and staff development. For full job description, please inquire.
Our Mathematics department seeks a creative Middle School specialist who is well-versed in SIOP methods or other similar language-based strategies. Teaching assignments are likely to be Algebra 1 and Pre-Algebra 2. Students are assigned math class by ability level, so you would be teaching students ranging from 7th grade to 9th grade.
We are looking for an enthusiastic and creative teacher to join our English Department. Your teaching responsibility would include two sections of Grade 8, two sections of Grade 9, and one section of Grade 12. Experience with Extensive Reading and EAL strategies required. The Grade 12 English course includes an 8-week unit on writing personal narrative for the College Essay; experience working with students on application essays and personal statements is a definite plus.
We are looking for a passionate science education with SIOP experience to join our team. Teaching assignments for the 2015-16 year would include 2 sections of Grade 7 Life Science, and 3 sections of Grade 9 Biology. We would like to offer AP or dual enrollment Biology in alternate years; we are offering AP Chemistry in the 2015-16 school year. Candidates with at least 5 years AP Biology experience or a Master's degree in Biology may be eligible to train as an adjunct instructor with Syracuse University Project Advance (supa.syr.edu) to offer university-level Biology to our qualified juniors and seniors. We have run the SUPA program since 2012, with currently 70% of our seniors enrolled in university credit courses in the areas of Biology, Calculus, Web Design, Economics, Public Affairs, Academic Writing, and Creative Writing.
The School Counselor designs and delivers comprehensive school counseling programs that promote student achievement. These programs are comprehensive in scope, preventative in design and developmental in nature. Focus areas include career and university counseling, social-emotional counseling, and other indirect duties such as student scheduling. The Counselor serves as the school's Safeguarding Lead and heads up the Response to Intervention process.
We have a tentative opening for Middle School Math & Science specialist. The teaching assignments would include two sections of Grade 8 Physical Science, 1 section of Grade 6 Earth Science, and 2 sections of Middle School Mathematics which would most likely be Grade 7 Pre-Algebra 2. We are looking for a dynamic teacher who is passionate about delivering inquiry-based lessons with a dedication to teaching with daily content and language objectives.
This position includes a 60% teaching load (3 courses). The IT Coordinator will liase with ISHCMC main campus to ensure access to technology for teachers and students. This teacher is a member of the school's Senior Leadership Team (SLT) and assists with administration of school databases. The position also allows for push-in time in classrooms to assist teachers with technology integration. For the right candidate, there could be an opportunity to train as an adjunct instructor for our dual enrollment program with Syracuse University Project Advance (supa.syr.edu) in courses such as Web Design, Cybersecurity, or Animation & Game Development. We have offered Web Design to qualified grade 11/12 students in the current academic year, and we are looking to continue offering a dual enrollment course in one of the above-mentioned areas.
Our school is seeking an experienced EAL specialist who enjoys classroom teaching and collaboration with teachers across subject areas. The ideal candidate will have a strong base of linguistic knowledge as well as training in WIDA, SIOP, and Extensive Reading strategies.
Applications
If you are interested in applying for a position or wish to learn more, please send your CV and a letter of interest to Principal Eric Hamilton (eric.hamilton@aavn.edu.vn) and Curriculum Coordinator Heather Carreiro (heather.carreiro@aavn.edu.vn). Additional documents which can support your application are welcome. Consider sending:
Letters of recommendation
Sample unit plan with assessment
Sample lesson plan that includes language development targets
If you have an online portfolio of work, please send us the link. Thanks in advance to all who are interested in applying. Salary and benefit information is published in the Search Associates database.