Award Nomination for Teaching Excellence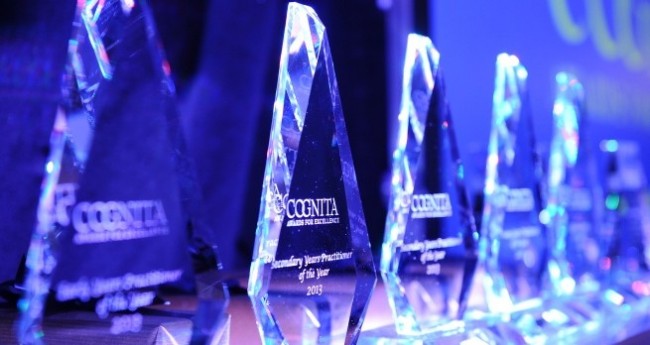 Remember when I had to go to London for a one-day black tie event? I was a finalist at the Cognita Awards for Excellence as a secondary teacher.
Cognita is a network of international schools that includes ISHCMC American Academy in Vietnam. While the majority of Cognita schools are in the UK, they also have schools in Spain, Thailand, Singapore and Brazil. In total, Cognita employs about 3,500 teachers.
This year they held the first Awards for Excellence ceremony at Whittlebury Spa Hotel. Our headmaster Jeffrey Wornstaff at ISHCMC and ISHCMC American Academy nominated me for the secondary category, and I was short-listed as one of 5 finalists for the Secondary Practitioner of the Year. The other nominees I was up against were all from the UK and had spend several years teaching in their respective schools, so I felt pretty out of my league considering I'd only been at American Academy for one semester!
The award went to two UK-based teachers, but it was cool to have my teaching and my work at American Academy recognized and to meet other inspiring teachers from the Cognita network.
Here is the video of the nominees in my category. The whole ceremony was designed to mimic the Oscars. I was a bit disappointed that the student quotes chosen to represent my teaching seemed to be more for the effect of humor than showing what goes on in my classroom, but everyone had a good laugh at the "lots of homework" comment.
Here are some remarks from my nomination:
Grade 12 student
One of the most passionate and enthusiastic teachers that I've ever been taught by is Mrs. Carreiro. She is funny and her lessons are always interesting. I'm really happy that she's teaching me the AP course this year. Mrs. Carreiro is cool.
Grade 12 student
Mrs. Carreiro teaches us in a very active and lively way. She encourages us to practice critical thinking, something we will most likely use countless more times after graduation.
Lindsey Sanna, Secondary English Teacher at ISHCMC American Academy
Whether it be organizing international pen pal exchanges or setting up poetry cafes right here at our school, Heather is constantly looking for new and creative ways to engage her classes. She consistently goes above and beyond to make sure her staff are happy and our students are getting the education they deserve.
Lori Kimble, Librarian at ISHCMC American Academy
Mrs. Carriero promotes creative and critical thinking skills in her students while instilling a desire to learn and explore. She creates a culture of students who will go on to become the leaders of our world.
***
Congratulations to the two winners in the Secondary Years category: Kate Hyde and Julian Barnett!