Review: Van Lan Riviera Villas in Hoi An
When booking family vacations, I obsess over finding good value accommodation that's both interesting for adults and practical with young children. I found Van Lan Riviera Villas on Agoda, where it had high ratings but only 3 reviews, one of which was in German. The property had no website and no contact email listed, but the price was good and the place looked gorgeous: I decided to risk it, and I'm so glad I did!
Van Lan has 3 one-bedroom villas and 2 two-bedroom villas. At the time of writing, the one-bedroom villas cost $43 per night on Agoda and the two-bedroom villas cost $72 per night. The rate includes bicycle use, WiFi and breakfast. The two-bedroom rate is good for up to 4 adults.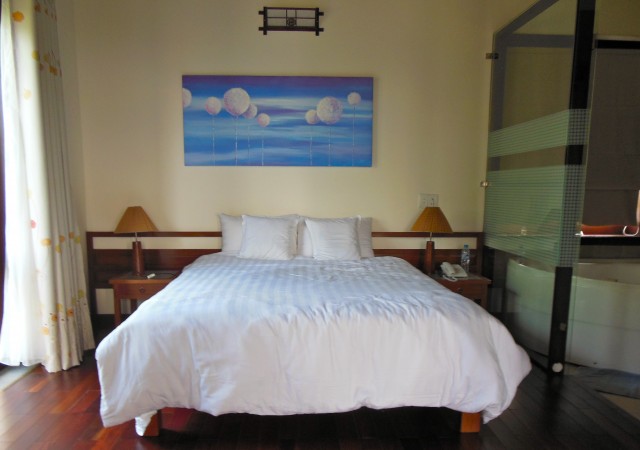 I booked a two-bedroom which has a townhouse layout. The top floor is the master suite with an open-plan bathroom, bedroom and living room. There are curtains for privacy in the shower and toilet. The living area has coffee tables and ottomans. The couches aren't incredibly comfy on their own, but the throw pillows and ottomans make them a good place to chill or check email.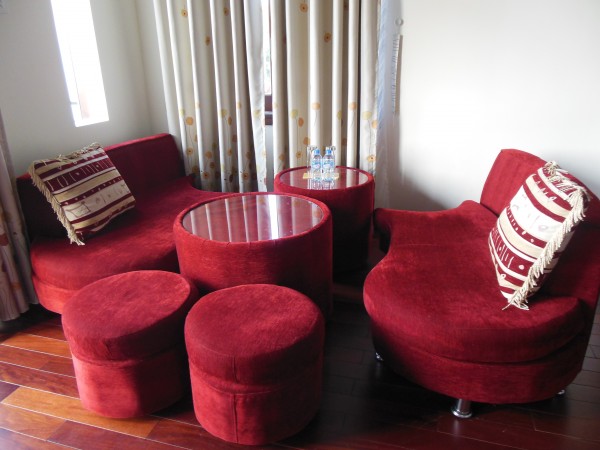 It is split level and the steps are difficult to see, so I didn't let my son up here very much. The split level makes it interesting, however with young kids it's a bit dangerous. I tripped myself a few times. I wouldn't let toddlers or crawling babies sleep on the top floor as there is a precarious staircase and a balcony.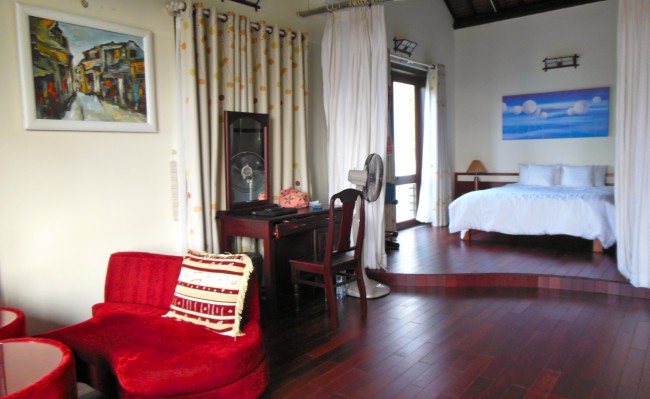 For adults though, the room was gorgeous and had a lovely view of the pool from the terrace. The entire unit has 3 air conditioners, one upstairs and two downstairs. We had some trouble the first night we arrived with the fuses being tripped and the power going out. This was frustrating with a toddler as it was past his bedtime and we were trying to give him a bath and get him off to bed. My son just wanted to wander the grounds, and every time the lights went out we had to go outside to get the staff.
Thankfully after this happened three times, they called an electrician who came and fixed the problem right away. Below is the view from our balcony the first morning.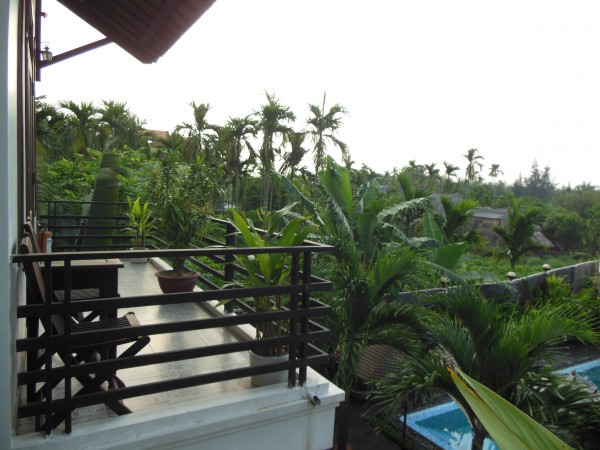 All of the villas surround a pool. The pool is clean and shaded during the morning.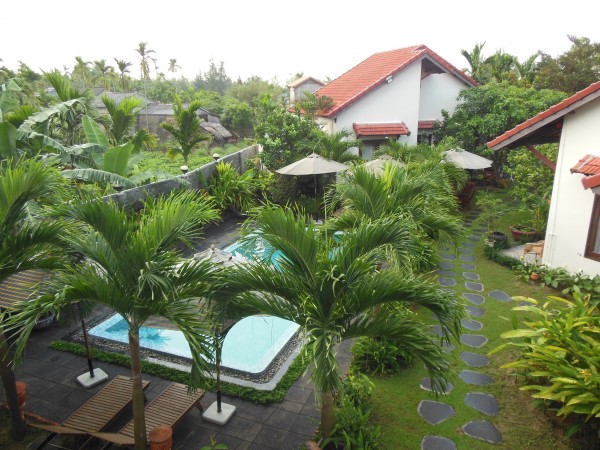 It does have steps and a shallow end that is good for taking toddlers in the pool with a flotation device. The sides of the pool were slanted inward, which was a bit dangerous for anyone as they were slippery, but I was able to keep Gabriel off of them most of the time.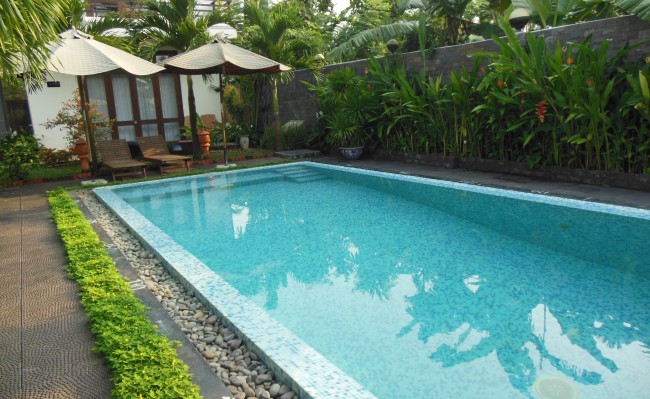 The pool temperature was pleasant. Our only real problem with the pool was the rocks surrounding it, because Gabriel wanted to systematically throw every one to the bottom of the pool. I let him do it in the shallow end because I could easily pick them up with my feet, but he had a few tantrums when I wouldn't let him throw rocks into the deep end. I think we left a half-dozen rocks still at the bottom. I wish all people who designed and landscaped pools had two-year-olds at home!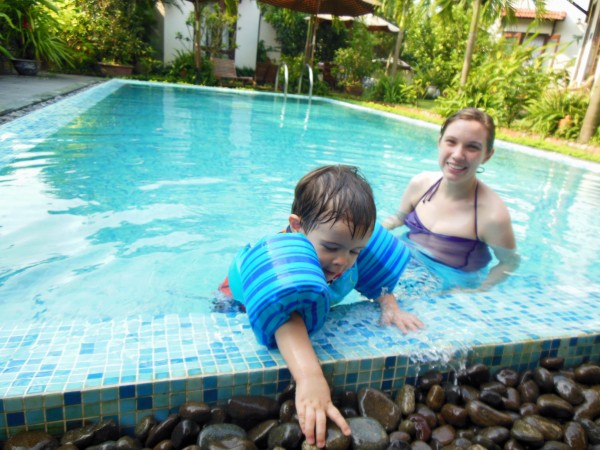 Breakfast was included in the rate. We had breakfast each day around 7:30, but it was served as late as 10:30. The menu for the "Western" breakfast was a bit strange for foreigners (it included spaghetti with meat sauce), but I ordered the eggs, toast, and fresh fruit each day. This would get boring after 3 or 4 days, but we stayed for just 3 days so it was fine. Gabriel liked the eggs and the fresh fruit juice.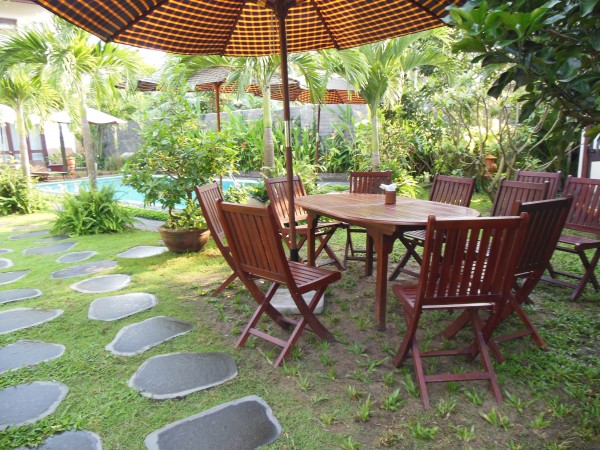 They also had three Asian options for breakfast including pho soup with chicken.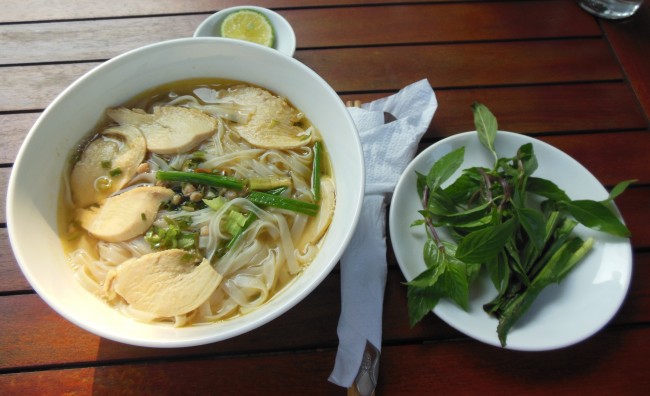 Van Lan Villas is about 10 minutes' drive or a 15-minute bicycle ride from Hoi An Old Town. I was worried about being so far from the town, but I ended up loving the location. The villas are in a riverside village in Cam Thanh hamlet. It is a rural area, and it's very quiet.
Gabriel absolutely loved chasing around two baby chicks that were on the property. Here he is in the garden looking for the "chickies."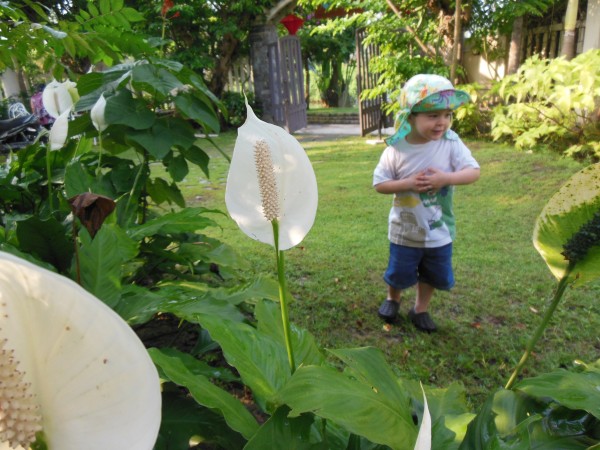 The baby chicks were the only animals on the property, and I'm not quite sure who they belonged to. The villa staff was really helpful with Gabriel and were always looking for the chickens with him. A few times they caught the chicks and picked them up so Gabriel could hold them. He loved it! He woke up every morning saying "Chicky! Chicky!"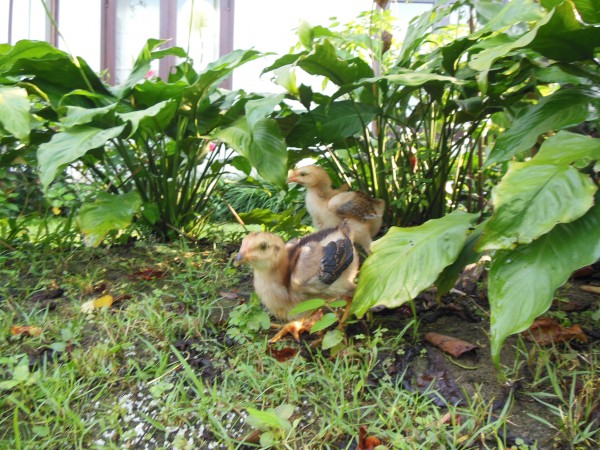 Bicycles were available to use for free, and the staff fitted one with a baby bike seat for us. That saved me a ton of money on taxis, and it was ultimately a lot more fun to travel around by bicycle.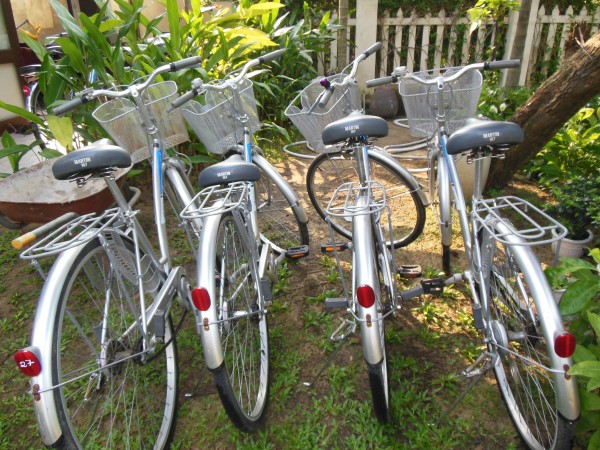 Another great thing about the location is that it's just a 4 to 5-minute bike ride from Red Bridge Cooking School and Restaurant. Red Bridge was featured in Anthony Bourdain's No Reservations Hoi An episode for its food. We went there one afternoon to eat (it is open until 5pm), and it was lovely. There is a riverside pool with a perfect shallow end for toddlers. I could sit at a table and enjoy coconut curry soup and chicken with cashews while Gabriel splashed in the pool. Having this toddler-friendly restaurant nearby was a big plus.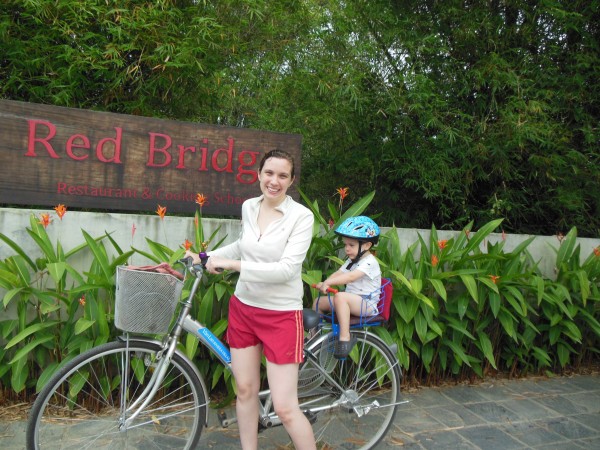 This last photo is the entrance to our villa. The first floor had a living area, kitchenette, bedroom and bathroom with shower. The tub was located upstairs. The kitchen did not have a microwave, which was a bummer, but it did have a fridge, a stove, an electric kettle and all the cooking and eating utensils we needed.
Outside of each villa is a water pot, which Gabriel loved to use to water the flowers…and himself.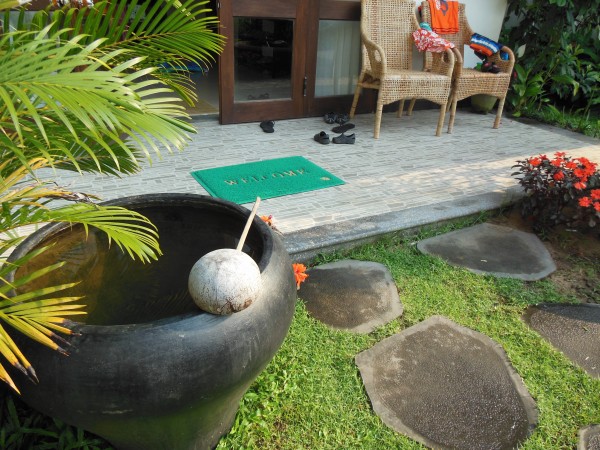 I would definitely stay at Van Lan Riviera Villas again. It's great for families with kids over 2 or who aren't yet crawling. I wouldn't stay here with a child between the crawling stage and 24 months because of the split level on the top floor, the stairs, and the open-plan bathrooms. Gabriel is just now old enough not to be constantly turning on the shower or trying to go up the stairs.
The one-bedroom villa also has a lot of space, and you could request an extra bed for a family of three. When we were staying there, it was mostly couples and one mother-daughter pair.
Things I loved:
The huge amount of space inside the villas.
The grounds.
The rural location and the free bike use.
The helpfulness of the staff. One of the guys at the front desk went out on his motorbike to get milk for us when we were running out!
The shaded gardens and pool.
Things to know:
It is about a 10-minue drive from Hoi An old town.
The on-site restaurant only serves breakfast, however you can go to Red Bridge or order out if you don't want to go far.
You can ask to arrange a boat ride from the villa to town.
Van Lan can arrange airport transfers for around $20.
The Verdict
I give it a rating of 9 out of 10, as the breakfast could be more varied, a microwave would makes things easier, and it would have been nice to have the place air conditioned and with the power working properly when we first arrived.
How to Book Your Stay
Click here to book Van Lan Riviera Villas on Agoda
Click here to see other Hoi An accommodation on Agoda
* I did not receive any discount or complimentary benefits from Van Lan Riviera Villas. I paid $72 per night for the accommodation via Agoda, $18 each way for airport transfers and $30 for late check out. I will receive a commission if you book through the above links. Any commission earned supports the upkeep of this site.