Langkawi with Kids: Cable Car & Sky Bridge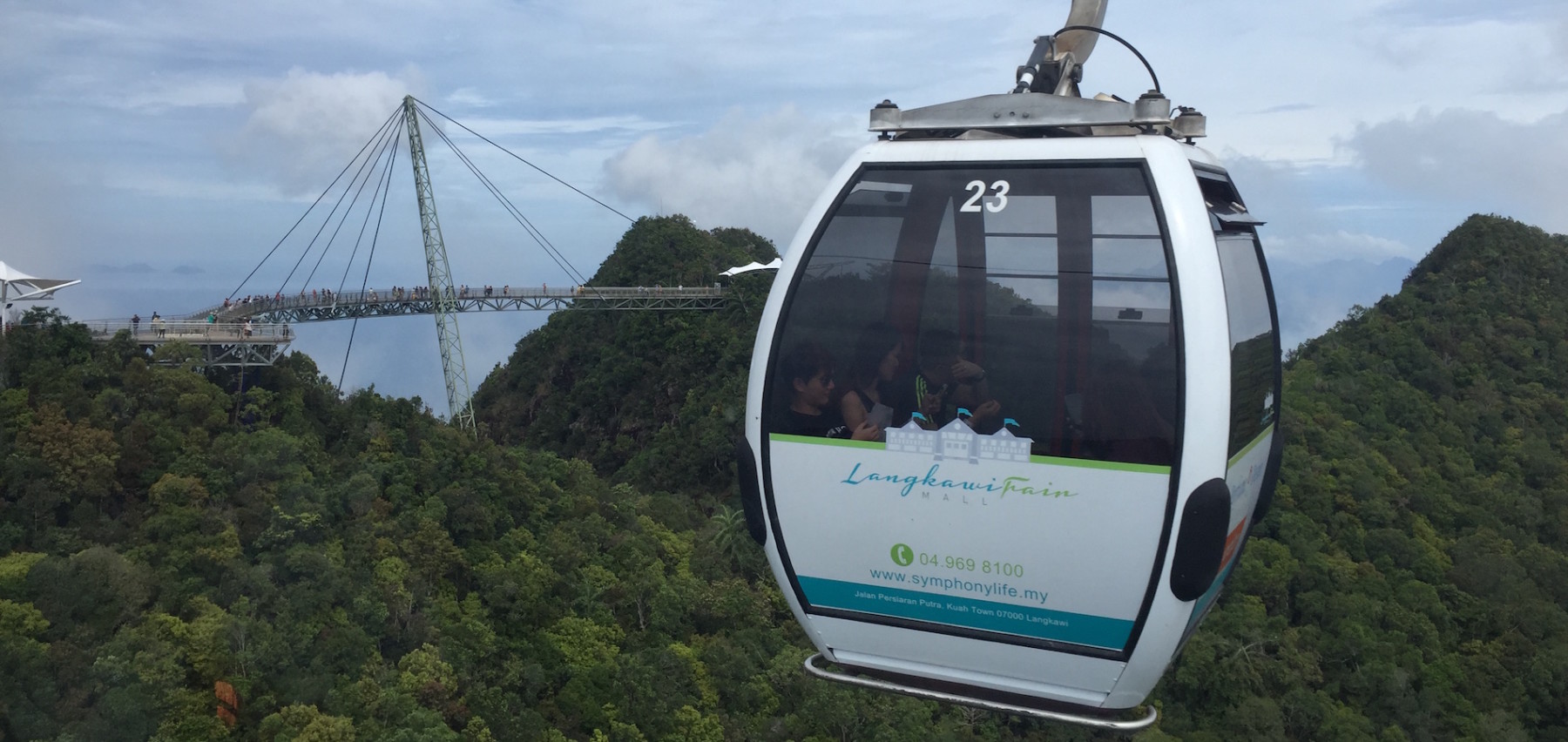 One of the most popular tourist attractions in Langkawi is the Cable Car and Sky Bridge at Machincang Mountain. I was a little worried taking two kids, ages 2 and 5, up there by myself, but we managed it and they had a wonderful time! It is beautiful and a fun way to see the jungle from above. They loved feeling the wind and pretending they were surfing in the sky!
Location
The entry to the Cable Car & Sky Bridge is within Oriental Village on the northwestern coast of Langkawi. You can combine this trip easily with Art in Paradise or any of the other attractions at Oriental Village. There is no need to have a driver wait for you, as you can spend several hours here and just grab a taxi on the way out. Oriental Village has many restaurants and snack spots. I had originally planned to stop by The Loaf bakery at Telega Harbor on our way back, however we just ran out of time before the kids were ready for naps.
Photos
Cable Car & Sky Bridge In Langkawi
Tips
Buy a combined ticket with Art in Paradise 3D Art Museum to save on the entry fees.
Arrive early. The Cable Car opens at different times each day. Check the SkyCab schedule and arrive about 30 minutes ahead of opening time to avoid long queues.
Buy the standard tickets. The glass-bottom and VIP gondolas are cool, but the ride isn't really long enough to justify the extra expense.
Use the bathroom before going up. The one at the top station is up a bunch of stairs.
Give yourselves at least 2.5 hours for the Sky Cab & Sky Bridge.
Bring cash to pay for the separate Sky Bridge and Sky Glide entry fees at the top station.
The rental binoculars were too wide and heavy for young children. Bring your own if you have them.
At the top station, you can choose to walk to the Sky Bridge or take the "SkyGlide" which is like a horizontal elevator.
My kids were fine walking down to the Sky Bridge from top station, but the stairs were quite high in some places, and the little one would have wanted to be carried on the way up.
We purchased the SkyGlide ticket at the end of the Sky Bridge, to get back to top station, but we had to wait 30 minutes. Many people choose not to walk.
It's a little chilly at the top, so long-sleeve shirts for the kids would have been helpful. My son was shivering and borrowed a jacket from the ticket man!

Verdict

When we visited, the kids were each a month or two away from their 3rd and 6th birthdays, and I think anything younger for the little one would have been tough. It is not a stroller-friendly trip, there is a lot of waiting in line, and the 2-year-old was too exhausted for the last few flights of stairs. I didn't feel comfortable carrying her on that many consecutive stairs, as I'm still a bit off-balance from having a separated pelvis when my son was born.

Thankfully a lady passing by helped me scoop her up and get her down, kicking and flailing! She recovered quickly once we got in the cable car and went back down to ground level. It was still definitely worth it, but I should have been better prepared to carry her, one step at a time if needed, for some of the stair sections. I personally wouldn't take a toddler (ages 12 months til 2.5 years) on this activity. Taking a baby in a sling or carrier would be easier though, so long as you are comfortable holding it for a long period of time.

My kids loved walking down to the Sky Bridge from top station. It's a lot stairs, and I had to help the little one with her dress so she didn't trip on it. Sporty clothes would have been more appropriate. However, the kids felt so accomplished when they made it the end of the walk. They were jumping up and down, they were so happy with themselves. I'm so glad we didn't just take the Sky Glide on the way down.

After the Sky Bridge, we headed over to Art in Paradise and took some wonderful photos with the 3D art! It was overall a fantastic day.