Review: Dayang Bay Serviced Apartments in Langkawi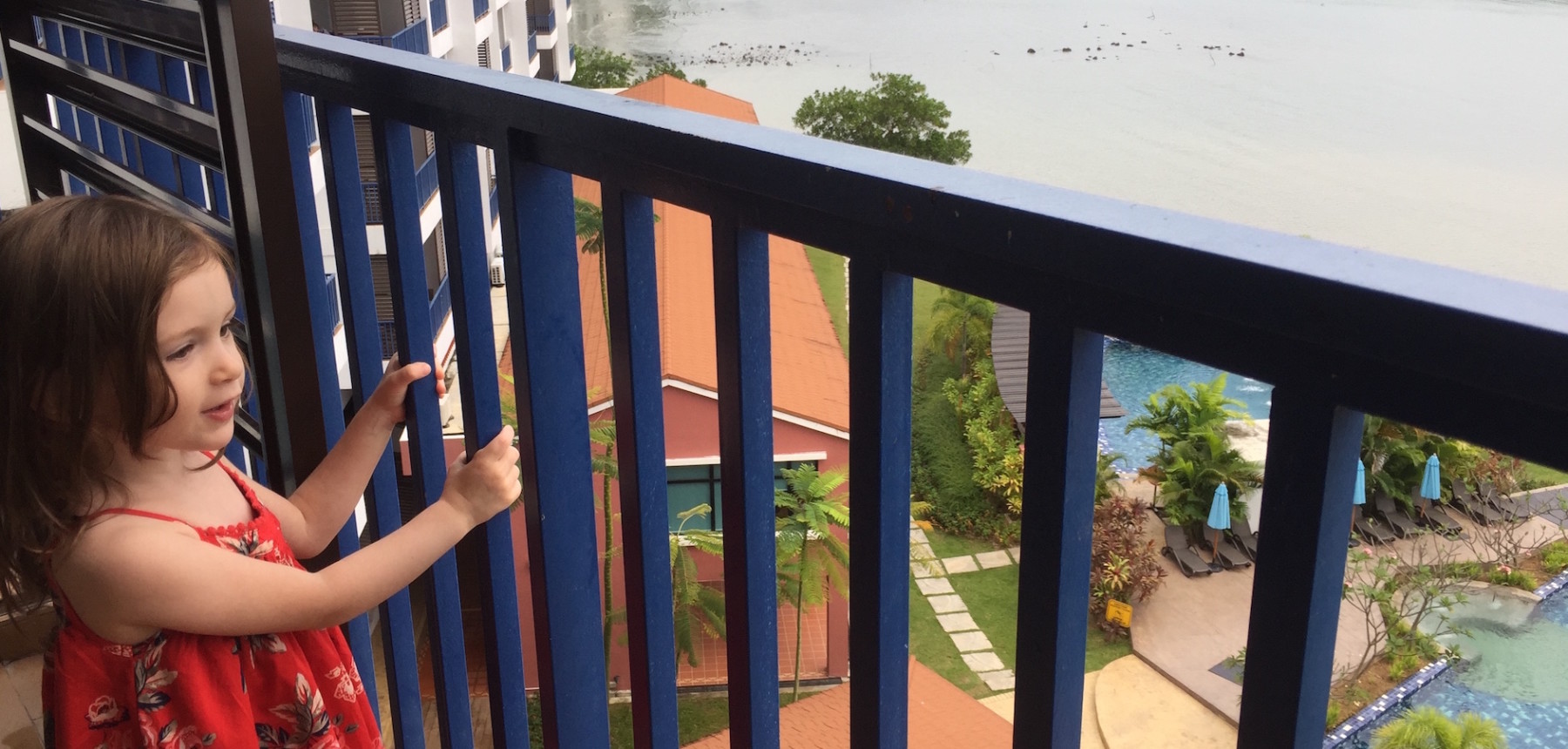 When I was looking for family accommodation in Langkawi, I found a lot of options. I decided on Dayang Bay Serviced Apartments because they had a suite with a sea view for a similar price to a regular hotel room at other resorts. I am a light sleeper, and the ideal situation for me is to have the kids sleeping in a different room.
Location
Most of the resorts on Langkawi are in Kuah town or along the island's west coast in the Cenang Beach area. Two five-star resorts are also north at Tanjung Rhu Beach. I chose Kuah town, even though it doesn't have a beach, because the island is small and I knew I could get to all the main attractions within a 30-minute drive.
All three of us got sick with high fevers during our week in Langkawi, so I appreciated being near a 24-hour clinic, a pharmacy, and a mall.
The Room
The suite was perfect for a family. The bed for the kids was a large, pull-out sofa in the living room. We had two bathrooms and a large veranda with mini kitchen. The kitchen included a toaster oven, electric kettle, tea/coffee supplies, a medium-sized fridge, plates, cutlery, and a four-person dining table. A few features of the suite I really liked on a beach vacation is that it had a shoe rack located outside the room and a large, tiled laundry room with a faucet. This helped me keep the beach sand out of the living area. The suite also had lots of storage.
The only thing I found annoying is that the controls of the air conditioners were on located on the wall very high, and I had to climb up on something any time I wanted to change the temperature or the fan speed. I called maintenance when I arrived, looking for the remotes, but they didn't have them. The maintenance guy seemed confused as to why I didn't want to climb up on the side tables. I'm sure they must have guests under 5'2″ who have also struggled with the AC controls.
The Grounds
One reason I chose Dayang Bay for our Langkawi family vacation was for the children's pool and playground. My kids LOVED the water slide, seesaw, and other kids' features in the pool. They would have been happy to stay all day, every day just at the hotel, going to the pool. They even insisted on going out to the pool in the rain.
The hotel also has a gym, a small man-made beach, a ladies only pool, and a large courtyard for kids to run around.
The Food
A breakfast buffet was included in our room rate. The buffet was more Asian-style and included items such as cold salad, spicy entrees, and some fruit. Each day, they had one western-style item such as pancakes, french toast, or omelettes, but those went quickly, and it was tough to get them if I didn't arrive at the refill time. I enjoyed the spicy Malaysian dishes, but the kids ate very little at breakfast.
We ate dinner one evening at the poolside cafe. The menu is basic, but it included several options that my kids liked, such as mushroom soup, spaghetti with tomato sauce, and pizza. This was my favorite meal at the hotel.
Finally, they have an Arabic & Indian restaurant in the hotel, however you can not charge items to your room as it is operated as a separate business. I was running low on cash, and thus decided I'd rather eat in the hotel and charge it. However, when I got the bill, the waiter informed me it was cash only. I had a nice Greek salad and the kids loved their cheese pizza. It seemed about 50% of the menu items (including the hummus!) were unavailable.
None of the restaurants on site provide room service. When we were stuck in the room due to G's fever, the hotel staff gave me the menu for an Arabic restaurant in town. They said it was the only one that delivered. The food was fresh and tasty, but about double what I would have liked to pay and took 90 minutes and several phone calls to reach us.
The Service
The staff spoke English well and were always friendly. They got me to an emergency clinic at 11pm, with one of the drivers carrying G in and out of the car. The tour desk on site, FTP, was fantastic, and we used them several times.
The one big complaint I do have about the service is the internet access. The current system is that when you want to log on, you need to go to the reception desk, print out a username and password, and that works hypothetically for 4 hours on one device. However, in reality, it lasts for about 10 to 15 minutes, if you can even sign in at all, and then the connection is lost and you need a new code. I gave up on using it after much frustration, and I primarily used the 3G connection on my temporary Malaysian SIM card. If you want to stay here, just assume you will not have WiFi access until this system is improved upon.
The Verdict
Hotel staff told me the busiest season is June, July, August, as many Middle Eastern tourists come to Langkawi, and specifically Dayang Bay, during that time. The main clientele of Dayang Bay when I was there were Middle Eastern tourists and Europeans. I loved that my kids went to the pool, saw ladies in full-length black abayas right next to ladies in bikinis, and they didn't even notice or say anything.
If I plan to go to Langkawi again, I will take a browse around to see what other family resorts are available under $80/night. In spite of the lack of room service, mediocre breakfast, and spotty WiFi, I have a feeling I'd choose Dayang Bay again because the sea view suites are spacious, and have that amazing veranda. I would bring more snacks and drinks, plan to eat out, and try the pool cafe for any leisurely breakfast instead of going for the included buffet. My kids also really loved the pool. Dayang Bay has one of the best kids' resort pools we've gone to.
We didn't receive any discount or promotion to feature this hotel on Expat Heather. If you are interested to learn more about Dayang Bay or to find other hotels in Langkawi, visit Dayang Bay on Agoda and your booking will support this site.