Lexington Residence in Ho Chi Minh City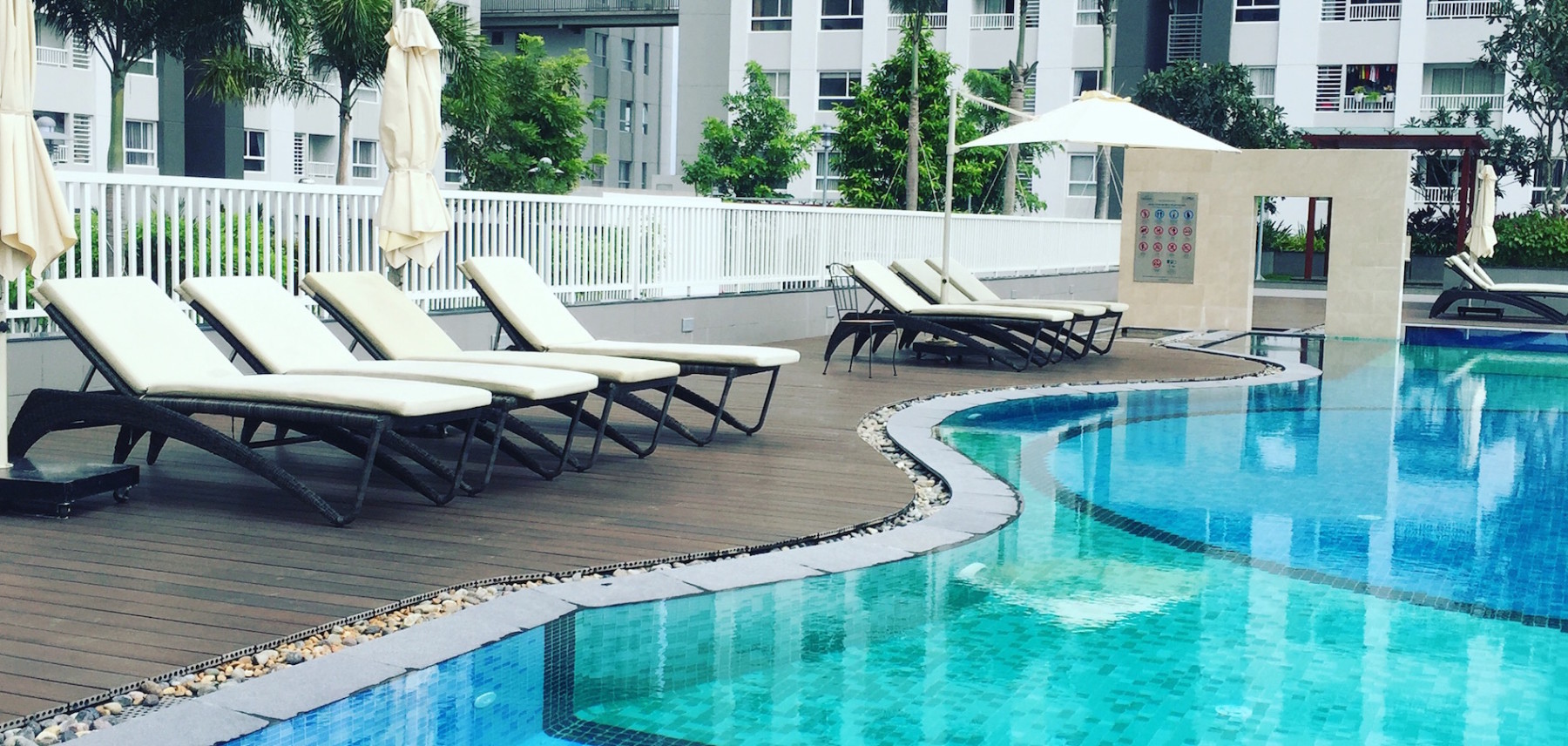 In September 2016, my two children and I moved from our lovely garden house off Nguyen Thi Dinh to a two-bedroom apartment at Lexington Residence. Lexington is a Novaland luxury apartment complex located off Mai Chi Tho Highway, on the An Phu side of District 2 in Ho Chi Minh City. It's fairly new and many units are still being finished.
Why Move?
I was planning an international move to Mumbai in summer 2017, and we were ready to downsize. My kids had thoroughly enjoyed our backyard garden for 3 years, but it was time for us to try something new and have easier access to play with other kids. While I loved the solitude of the garden house (yes, the one featured in our House Hunters Internationalepisode), it was tough to get taxis or Uber on the weekends. We also experience some changes in the neighborhood that significantly changed the noise levels, such as a neighbor getting an energetic puppy and the empty lot next door being under construction.
Why Lexington?
On two previous occasions during my 5 years in Saigon I've gone around District 2 looking at LOTS of housing options. I've probably seen 40 apartments and 25+ houses. I've always preferred a house, because I like having more space and access to a garden, but this time I was ready for a condo.
Lexington came out on top because:
– the kids' pool and regular pool are awesome (and warmed by the sun!)
– Nutrifort gym access is included
– rent for a 2-bedroom is between $700 and $900 USD/month
– several restaurants and cafes are on the ground floor
– three convenient stores are in walking distance
– easy and quick access to taxis and Uber drivers
– 24/7 security with guards at each tower
– dedicated service hotline
– two playgrounds, one covered from rain and sun
– large, open areas for bike riding and playing – safe from cars
– free BBQ area residents can book for parties
What are the Apartments Like?
I looked at four different units with a local real estate agent. The units closer to the road did have a bit of street noise, and some of the units had views onto the highway or empty lots. Many of the units had tacky, cheap furniture which I found unappealing. Each unit is individually owned and decorated, so the landlord makes a big difference.
While some of the units I looked at were going for $700/month, I chose a more expensive one ($900/month) that had higher quality furniture, modern lighting, a high floor, and a view of the pool. The units are a bit small, and if I was going to stay in Ho Chi Minh City, I'd have chosen a 3-bedroom which is much more open. The bedrooms are pretty small, and with the local preference to fill bedrooms with as large of a bed as possible, they are bit hard to move around in.
We managed to downsize from the garden house to the Lexington apartment, although I still feel a little cramped and I'm trying to get rid of at least one thing every day to keep downsizing!
Here's how our place ended up. The unit was mostly furnished, but the kids' furniture and shelving is mine. The kitchen is pretty small with no oven and not a lot of storage or counter space.
What do you like about living at Lexington?
I'm really happy we chose Lexington for our last year in Vietnam. The kids love the pool and the playgrounds. On the weekends, we have plenty of things to do, and it feels like we're at a resort. The Korean restaurant and the cafes on the ground floor are fantastic and kid-friendly. They are also good places to escape with a laptop and get some work (or blogging!) done. I save a lot of money on taxis by having these facilities here. The gym is also a great bonus, although I wish it had more classes and longer hours.
Here are some of the restaurants at Lexington.
What's difficult about living at Lexington?
The apartment sizes are small as compared to Vista or other area complexes. I can't receive packages from overseas reliably here, but that seems to be a problem almost everywhere. Except for some construction noise during the day, it's pretty quiet and we really like it!
Our lease ends in mid-June if you're interested in our unit! I don't get any commission or discount from writing this blog post. I've had a lot of people ask about where to live in D2, so this is purely an informative post. Email me at heathercarreiro@gmail.com if you want to get in touch with the agent I used.