Heather's Best Travel Moments of 2016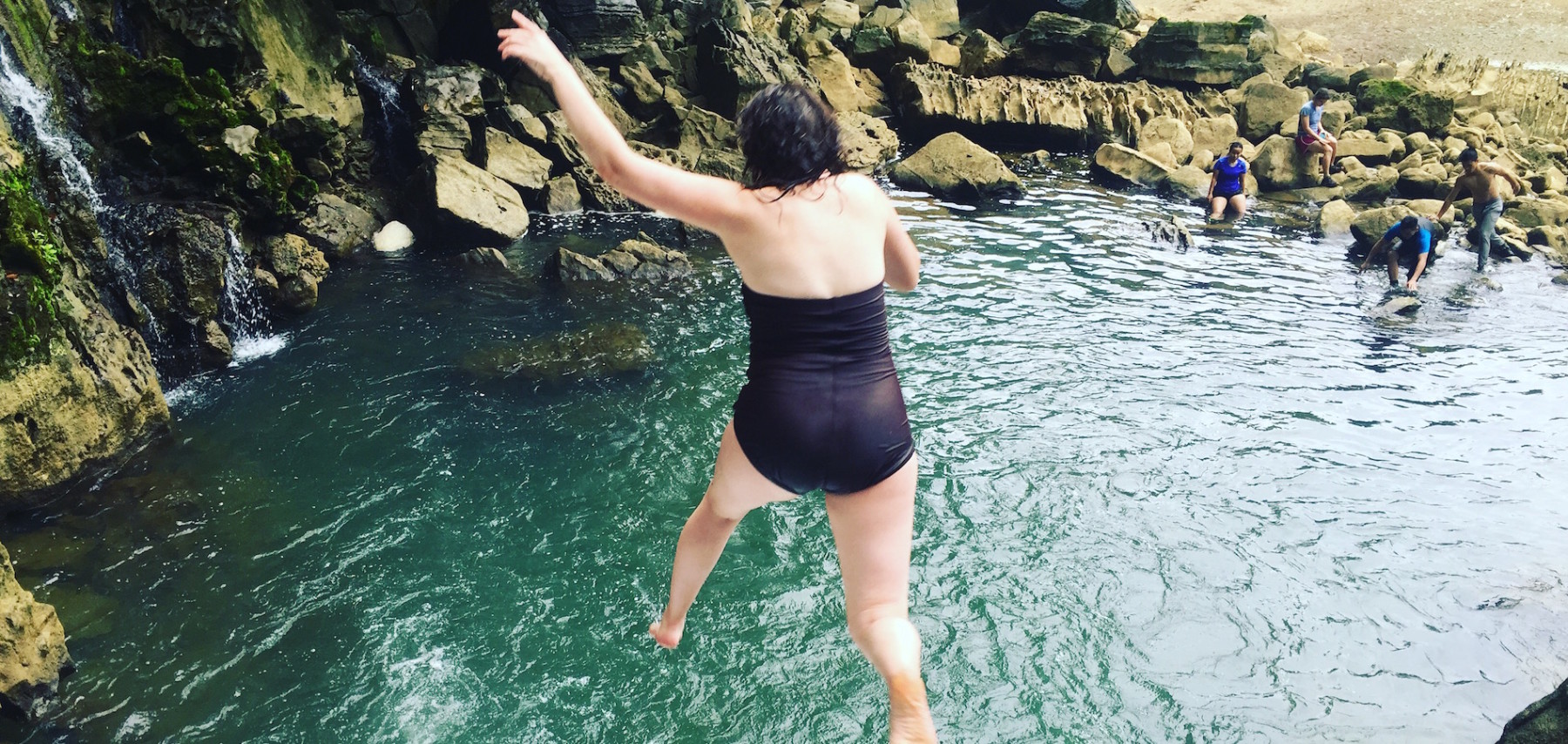 In 2016, I was so busy learning how to live that I spent very little time blogging!
2016 was less about travel and exploration and more about challenging myself and setting a course for the future. As my kids have gotten older, I've gotten relatively less sleep deprived and I've started to cherish their natural curiosity about the world. It's been a reflective year, with lots of time spent with my journal. 2016 has had so many moments of joy, clarity, and success. Here are some of the highlights from my travels:
Vietnam's Cave Kingdom
1. Floating weightlessly in a secluded lake, staring up at the jungle canopy concealing the mouth of a cave. After three full days offline in the Tu Lan Cave system, my mind stopped jumping from one thing to the next, and I could just breathe.
2. Listening to fat drops of water drip from stalactites and the chirping of hundreds of bats in a pitch black cave. That is, for fifteen seconds until the Vietnamese trekkers broke the silence with nervous laughter. These four on their "men's outing" were afraid of the dark.
3. Plunging into a jungle stream from atop a waterfall at camp site one on the Tu Lan Cave Trek. Waking up to morning mist. Wincing as we put on wet life jackets to paddle through the stunning river cave system.
United States
4. Sampling a flight of champagne and wine at a local dive in Hyannis. The house band jammed like they owned the place, with the portly lead singer donning pink, plastic sunglasses and animal print hats.
5. Wondering who was more excited to catch frogs at Up Yonda Farm in Lake George, New York. My son, my dad, or my future brother-in-law. The kids enjoying a forest tea party with my sister and her new fiance.
6. Dangling my legs off a dock while the annual Antique & Classic Boat Parade made its way through downtown Mystic, CT. Catching up with a friend over sunset cocktails in a quiet New England harbor.
7. Savoring the pop of juicy, fresh blueberries in western Massachusetts. These tiny, summer fruits I dearly miss abroad, plucked with a friend as her daughter toddled through the bushes.
Australia
8. Marveling at the strength, beauty, and power of dance during an impromptu outing to see Njinsky performed by The Australian Ballet. A reminder of the human desires to both create art and appreciate beauty, even when they bring pain and loss.
United Arab Emirates
9. Peering down at the endless beige of the desert, patched with the gray concrete of development and the cerulean pools of luxury. The view from the 125th floor of the Burj Khalifa revealed to me how much Dubai had changed over ten years. How much I had also changed.
10. Walking slightly stunned through the Mall of Dubai. Burkas and mini-skirts exist side by side in this commercial universe. The sun setting as the Burj Khalifa sparkles with geometric designs, and the fountains dance to a '90s Phil Collins.
11. Gorging on hummus ringed with pine nuts and olive oil. An impromptu dinner with a college friend leads me to ponder the nature of love, and how it drives us and shapes our lives, our locations, our identities.
India
12. Sipping masala chai and feeling the breeze of the Arabian Sea on Marine Drive promenade. The softness of a single, red rose. I knew my first night in Mumbai would not be my last.
13. Clambering up hundreds of rocky steps to the ancient Buddhist dwellings at the Kanheri Caves. Getting the full real-estate tour of the property, although I still think cave #108 does not exist.
14. Learning pranayama breathing on the quiet shore of Powai Lake. Being accosted by hundreds of pigeons to get some epic photos. Their scratchy claws digging into my palms while their beaks battled for seed.
15. Stretching myself to the limit at the International Day of Yoga. Holding a pose long enough to have my photo secretly snapped for a feature in the Times of India. A rainbow pierced through the Bombay skyline after early morning monsoon rains.
Year in Review
As you may have read already, my travels to India have enticed me to move back to subcontinent. We will spend our last six months in Vietnam enjoying time with friends, beach getaways, and all our favorite Saigon haunts.
2017 will be a year of transition and new beginnings. Let's embrace what comes our way!