Saigon Getaway: Ho Tram Beach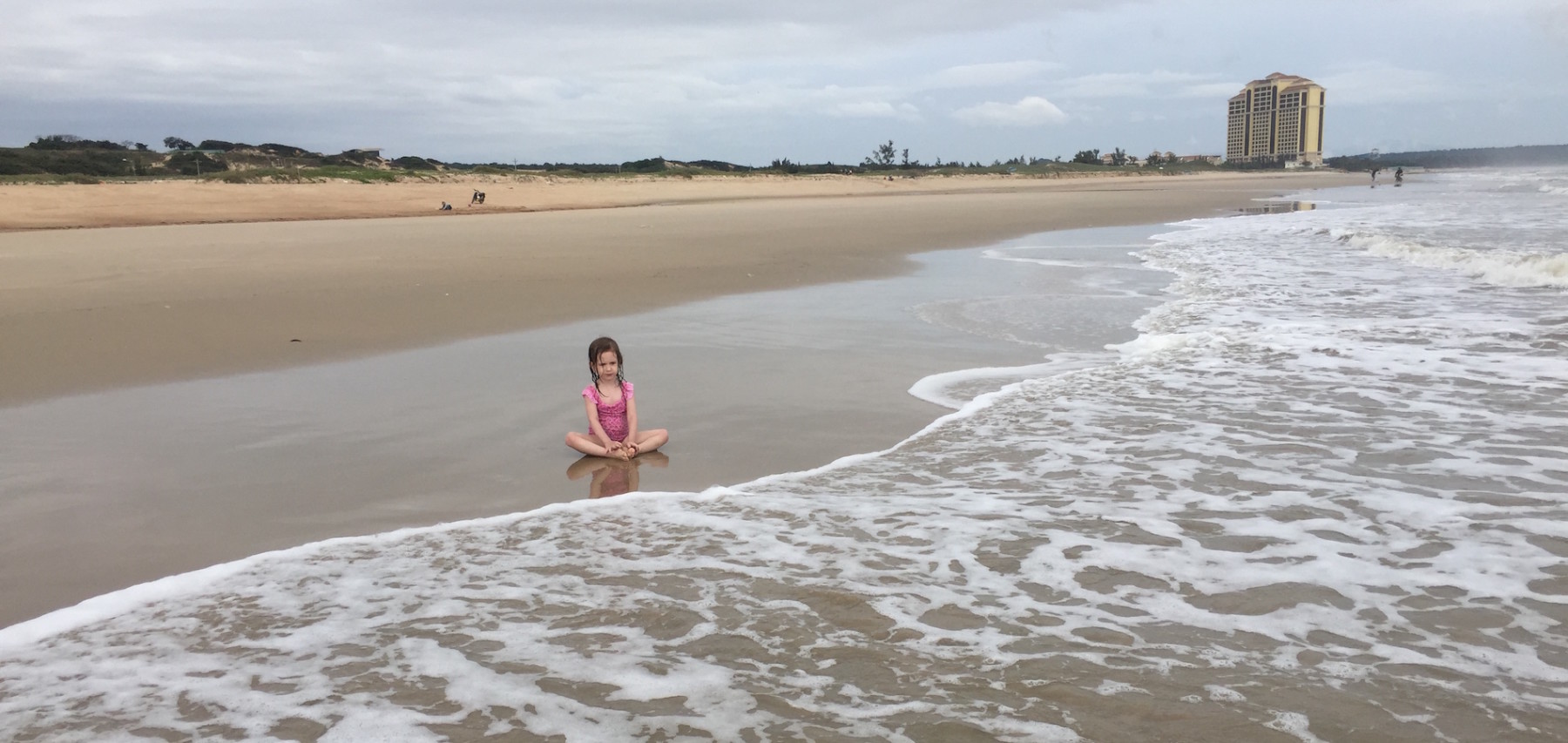 Ho Tram Beach is my new favorite beach getaway in Vietnam, and for good reasons: it's uncrowded, has calm spots for young kids, and is only a two-hour drive from the city. I recently went with my kids (ages 2 and 5), and I wish we'd gone earlier!
I first heard about Ho Tram four years ago when we moved to Vietnam. During a kids' play date at Snap Cafe, we met one of the Americans on the development team for the Grand Ho Tram Strip casino and hotel. At that time, the Grand wasn't finished yet, and there wasn't much development in the Ho Tram area for tourists. His wife and kids preferred to stay in Saigon while he was on site. The nearest beach getaways to the city were Vung Tau (known for being a bit seedy) and Mui Ne / Phan Thiet (a four-hour drive). After taking one trip to Mui Ne and struggling to wade with my son in the rough surf, I decided we'd just fly to Phu Quoc to enjoy calmer waters and the affordable La Mer Beach Resort. However, Ho Tram Beach's proximity and large, flat beach with calm tidal pools have changed my mind.
Getting There
Ho Tram Beach is roughly 100km southeast of Ho Chi Minh City's District 2. We booked a private car with an Uber driver for the two-hour drive. You can also book a car or motorbike driver with any of the major travel companies in town. Two companies I have experience with are Exo Travel and Buffalo Tours.
If you want to catch the free bus from District 1 straight to the Grand Ho Tram Strip casino hotel, check out the schedule here. The bus leaves three or four times per day, and once you are at the Grand, you can grab a taxi to get to your hotel. The Grand does have some nice restaurants, bars, and cafes as well as a video arcade.
Apparently, you can also book a helicopter if that's your way of getting around. Twenty minutes will get you from Saigon to the casino, FYI.
Staying There
The iconic hotel in Ho Tram is the Grand Ho Tram Strip casino. This hotel has all the facilities of a 5-star and is popular with tour groups.
We stayed at Carmelina Beach Resort. I absolutely loved this location, as the beach was empty most of the time and when the tide went out, shallow tidal pools lined the beach. It was perfect for the kids to play. The resort also had several pools, a huge playground, and a small waterpark for kids. The breakfast buffet on weekends was a little hectic (watch out for sugar in the milk or running out of staples) and the Christmas decor tacky, but otherwise the food was good and the room service reliable.
During our visit, we also drove down the road to see Ho Tram Beach Boutique Resort & Spa. The grounds were gorgeous; everything had a natural and relaxed feel. This place would be ideal for couples or older children. The only reason I'd choose Carmelina is because of how the sandbars and tidal pools on that stretch of the beach make it SO easy for little kids to play. If I was going to Ho Tram for a romantic getaway, I'd definitely book Ho Tram Beach Boutique Resort.
Exploring
Ho Tram is a pretty quiet area. The main activity here is just going to the beach and enjoying the resort you're staying at. For something to do, you can visit the Grand Ho Tram Strip to eat at one of their restaurants or visit the casino. If you golf, The Bluffs Ho Tram Strip is the place to go. Otherwise, you can hire a taxi or car to take you to area mud baths, a hot spring, a nature reserve and the local wet market. See this post from Beach House Ho Tram for ideas.
Reflection
Ho Tram is the perfect, relaxing beach getaway from Saigon. Bring your own snacks and drinks since not a lot is available locally. A variety of accommodation directly on the beach offers a lot of choice and value. Use the Hotel Quickly app to get sweet deals on last-minute bookings. If you enter code HCARR1 on your mobile on the HQ app OR book a hotel using the Agoda links, Expat Heather will get a small commission or discount on the booking to help support this blog. No part of this trip was comped.
I'll definitely get back to Ho Tram at least one more time before we move to India! The kids had such a fantastic time. The resort was quiet, and we often had the beach to ourselves. Do you have a favorite beach getaway in Vietnam?