Horseback Riding in Siem Reap, Cambodia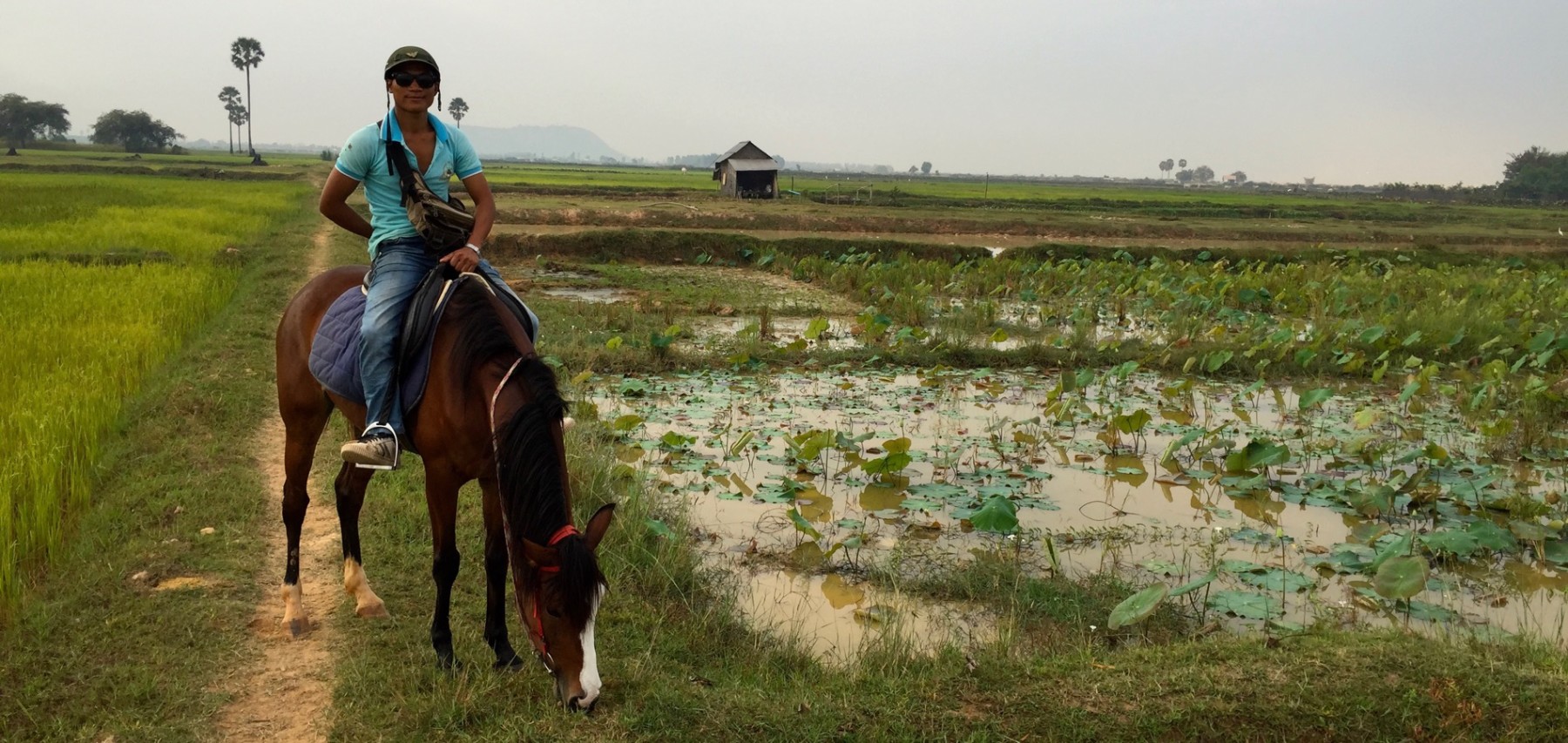 Earlier this year, I took a trip with my mom to visit Siem Reap, Cambodia. One of the highlights of the trip was a 4-hour horseback ride through the surrounding villages with The Happy Ranch.
As a certified horseback riding instructor, I'm always a bit wary of trail-riding ventures. Unfortunately, there are more times that I have decided not to ride once seeing the condition of the horses or the lack of safety measures. I'm pleased to say that at The Happy Ranch, things were run in a professional manner and adequate safety precautions for horses and riders were in place. The ranch is set on 10 hectares of land and has 51 horses. It was founded by a Cambodian man named Sarry Pann who spent 30 years living in California.
From the booking, to the preparation, to the end of the ride, the service at The Happy Ranch was fantastic. I always felt safe and like I knew what was going on. I was on a private, 4-hour ride, so the guide was always asking if I was comfortable and what pace I wanted to go at. It was quite hot, so I preferred to mostly walk with a little bit of trotting. We had a few moments of glorious cantering through the fields, but it was so hot even in January I didn't want to work the horses very hard. One downside is that some of the roads also had large trucks passing by, stirring up dust and spooking the horses a bit.
Horseback Riding In Siem Reap
If you book with The Happy Ranch, I recommend a minimum of a 2-hour ride so you can go see one of the lesser-visited temples. You'll need a valid temple pass to go inside, but even if you don't have one, just riding by it and walking around is pretty cool. The guide I had was an experienced rider and spoke English fluently.
The last hour of the four-hour ride didn't have that great of scenery, so go for the 2 or 3 hour booking. It's quite popular, especially in the winter season when the weather is cooler and dry, so make sure to book ahead. The Happy Ranch is a bit hard to find, so they suggested booking a tuk-tuk for me which I paid in cash when I got there. The driver was punctual and friendly. All around, a great experience and a really nice way to see a different side of Siem Reap.