Hiring International Teachers in Vietnam for August 2016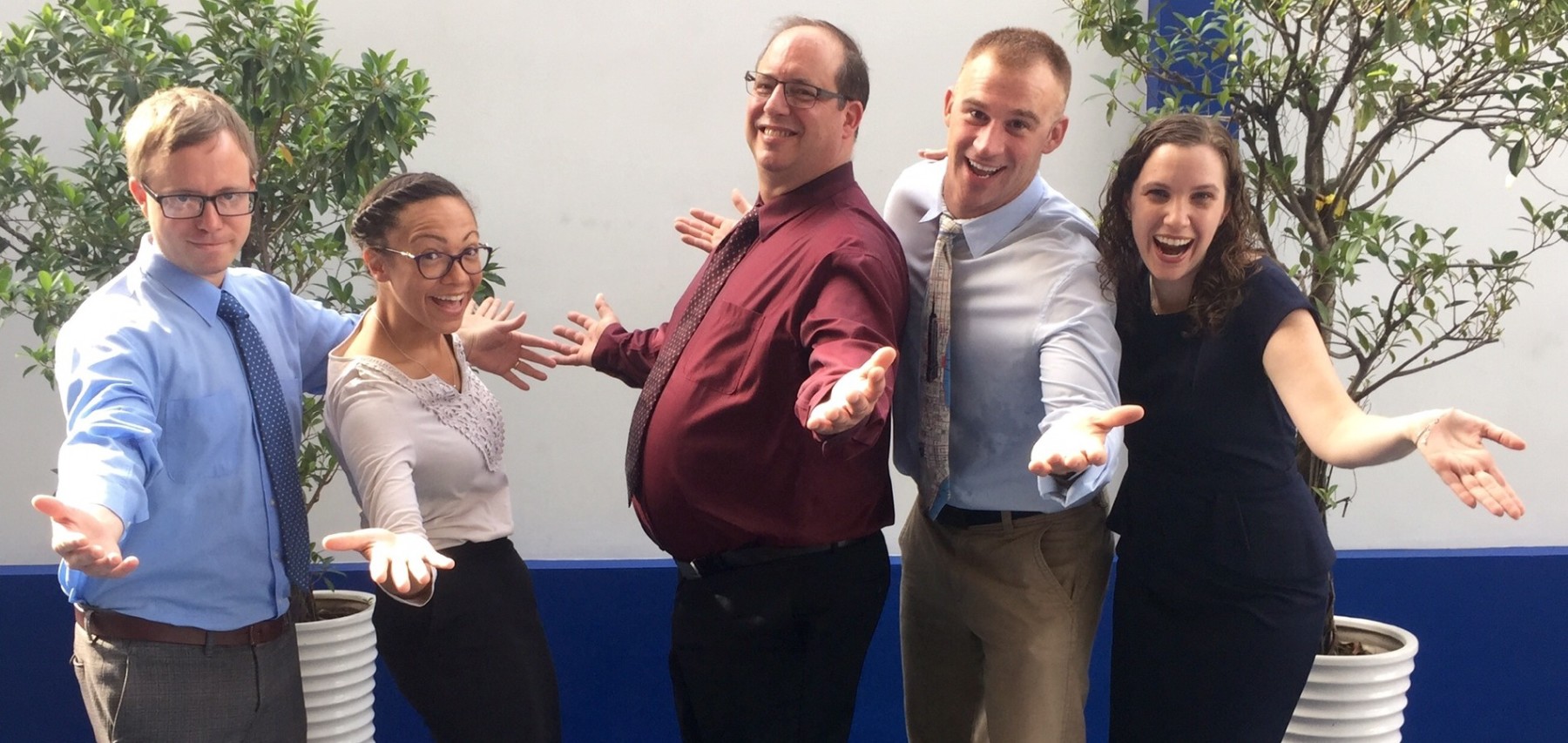 *Note – all positions have been filled for the 2016-2017 school year. Check back on expatheather.com in November 2016 for updates.
It's that time of year again, and ISHCMC – American Academy in Vietnam has some open international teaching positions for the 2016-2017 academic year. Pictured above is the school Senior Leadership Team: Rob Wilson (Dean of Students), Christina Nelson (EAL Coordinator), Mark Lewis (Head of School), Bill Hanrahan (Technology Integration Specialist), and me, Heather Carreiro (Deputy Head of School). Not pictured: Michael Tower, our Counselor.
If you are interested in living and working in Vietnam, here is the information that we have posted already on Search Associates. You do not need to be a member of Search Associates to apply.
About the School
ISHCMC – American Academy is an American curriculum campus for grades 6-12. The ISHCMC-AA campus is located directly next to the main ISHCMC campus and serves approximately 300 students.
Our student body is made primarily of Vietnamese nationals with a wide range of English language proficiency levels. The ideal candidate will have experience with effective methods of working with English language learners to reach content, and will maintain a willingness to openly collaborate with the EAL Program Coordinator to deliver instruction and support according to student need.
Definite Positions
Tentative Positions
Further Information
Here are some ways you can learn more about our school and about living in Vietnam.
Applications
If you are interested in applying for a position or wish to learn more, please send your CV and a letter of interest to Head of School Mark Lewis (mark.lewis@aavn.edu.vn) and Deputy Head of School Heather Carreiro (heather.carreiro@aavn.edu.vn). Additional documents which can support your application are welcome. Consider sending:
Letters of recommendation
Sample unit plan with assessment
Sample lesson plan that includes language development targets
If you have an online portfolio of work, please send us the link. Thanks in advance to all who are interested in applying. Salary and benefit information is published in the Search Associates database.