Spring Flower Festival at Tao Dan Park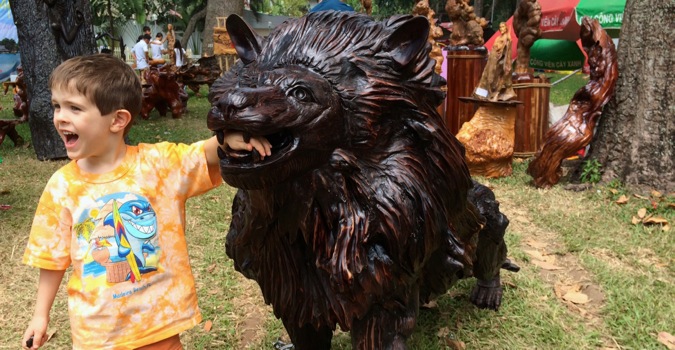 One of my favorite things to do during Tet is to visit the Spring Flower Festival at Tao Dan Park in central Ho Chi Minh City. This is the third year we've stayed in town during Tet. I actually really like it because the weather is cool, the city is less busy, and the new year decorations make the town festive.
It cost 20,000 VND (US $1) per adult to enter the park for the flower festival; the kids (ages 4 and 1) got in free. Inside there are lots of different displays set up with rock carvings, wood carvings, bonsai tree art, and other floral arrangements. Within each section, a few of the pieces are marked with ribbons, and all pieces are marked with names, so it seems to be a contest. It reminded me a lot of the New England county fairs where people enter different produce and crafts for judging.
We did as the locals do: dressed up and took pictures with the flowers. Enjoy!
Gabriel was in a bit of a mood and didn't really want his picture taken with any flowers, however he was happy to pretend his hand was being bitten off by one of the wooden animals. Arianne was quite the attraction herself; all the local people loved her ao dai and were smiling at her and we walked by. Thankfully there was only one cheek-pinching incident; she's not a fan. The park is stroller friendly except for a few big curbs you need to lift the stroller over.
You can buy snacks and drinks from the vendors set up around the park. Another place in the city to see flowers and other Tet decorations is along Ham Nghia street; this area is transformed into a pedestrian zone during Tet. I'm hoping to get out there later this week to take some photos!