Lunar New Year in Vietnam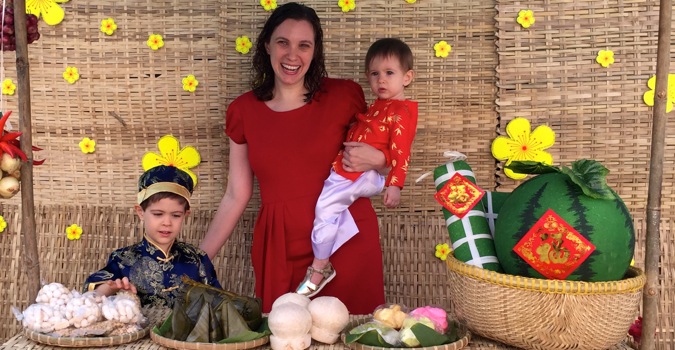 Today our school celebrated the lunar new year. As this is our third Tet in Vietnam, it's become a fun tradition for Gabriel to dress up in traditional Vietnamese clothes. He outgrew his bright blue ao dai that he had for his first Tet, so I got him a new one in dark blue silk with gold and a cute little hat for 120,000 VND ($6) at Ben Thanh Market.
When we went to leave for school this morning, Gabriel asked me, "Can you bring my baby too? She can dress up also!" I hadn't been planning on it, but I did get a red ao dai for Arianne that Gabriel saw in the closet. He wasn't taking any excuses! I didn't have classes first thing in the morning, so the nanny helped me bring both of them. It was really fun, and of course the students enjoyed seeing the kiddos dressed up in their Tet clothes. Arianne had never seen so many people in one place and so much action! We couldn't get her to smile for most of the photos because she was too busy observing everyone and trying to play with her new shoes.
After about 40 minutes, the nanny took Arianne home and I went with Gabriel over to the primary school's assembly and Tet performance. It was really cute! I loved seeing all the kids wearing traditional clothes, singing in Mandarin, dancing with wooden sandals, and acting out traditional stories. Events like this really make me appreciate being able to send my children to an international school where they can learn about other cultures.
My favorite part of the show was the drum performance for the secondary students. Enjoy this little clip!