Saigon Getaway: Buon Ma Thuot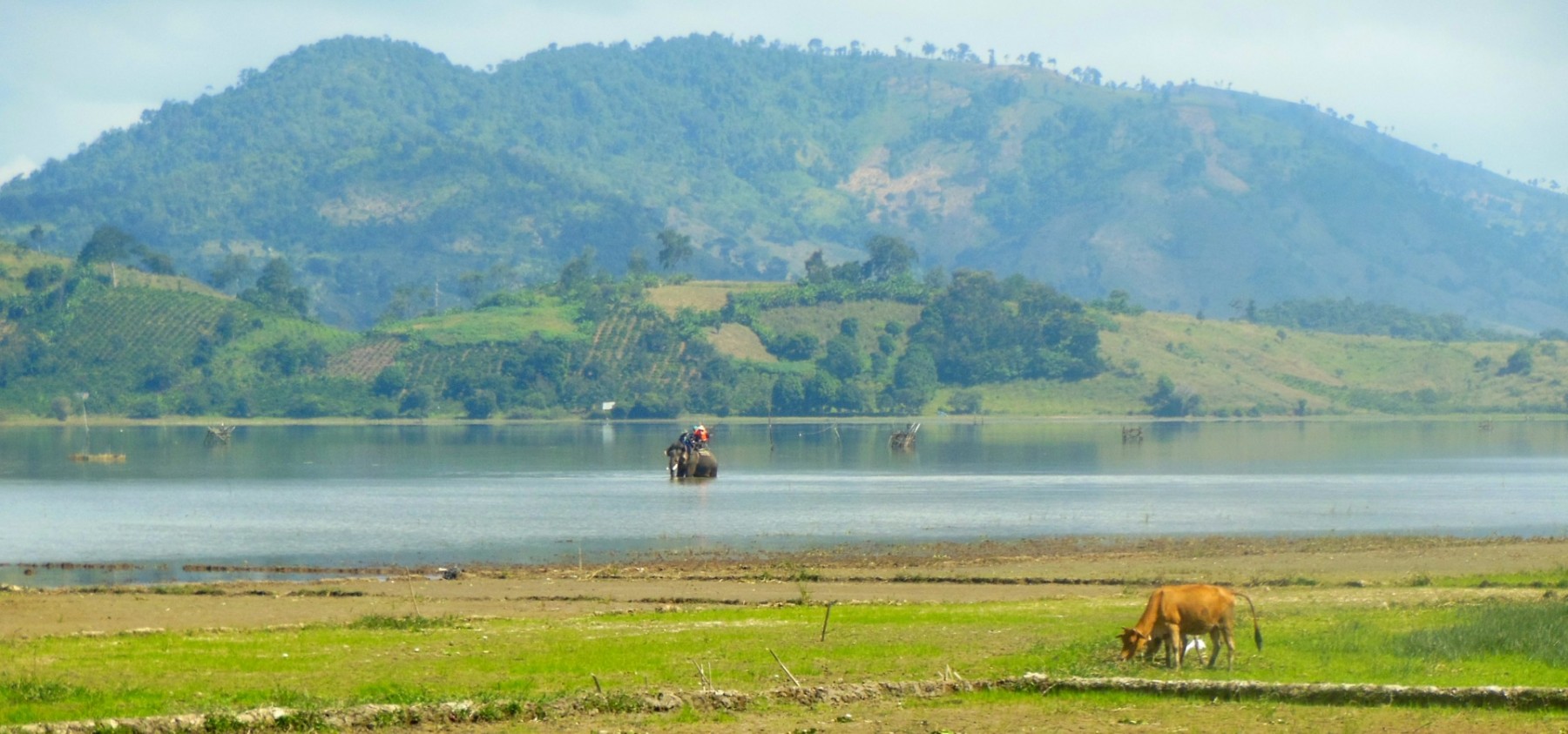 A few weeks ago, I was looking for a weekend travel destination in Vietnam and started reading about Buon Ma Thuot in Daklak Province. My stipulations for a good weekend "getaway" are:
1. It should not take more than 5 hours to get there, all travel included.
2. It should not cost more than $100 to get there and back.
3. You can leave on a Friday evening and return on a Sunday evening.
With conveniently timed JetStar flights for about $75 round trip, Buon Ma Thout fit the requirements. Daklak Province is known for coffee production, dense jungles, elephant trekking, lakes, and waterfalls. That sounded like a nice contrast to city life in Saigon, so I booked my tickets and headed off without the kids for a weekend to myself.
Getting There
I left my house in District 2 around 3:00pm on Friday for the 5:05pm flight. The flight was on time, and I arrived in Buon Ma Thout at 6:00pm. It's a modern, clean airport with just 4 gates.
Metered taxis were available at the airport. I was the only foreigner, and nobody tried to give me a "special deal" on the taxi like when you arrive at Saigon. The town center was just about a 15-minute drive from the airport.
Staying There
Agoda lists only 12 properties in and around Buon Ma Thuot. The highest rated and priciest is the Sai Gon Ban Me Hotel, but that seemed geared to business travelers and was above my accommodation budget. I ended up booking a room at Resort Coffee Tour, and I'm glad I did. The resort is a destination in itself with lovely landscaping, an on-site coffee production tour, a sprawling restaurant, beautiful fountains, and a fairly-priced gift shop.
Resort Coffee Tour runs their own area tours and offers comprehensive packages. It is popular with domestic tourists, so it's a good idea to book ahead. My room was $25 per night. It had a fridge, TV, free Wi-Fi, and free breakfast. The grounds were lovely; it was tempting just to stay there the entire weekend.
Exploring
Attractions around Buon Ma Thout are spread out, so the best way to explore is to hire a car or motorbike. Resort Coffee Tour partners with Dang Le Tourist, a local tourism company.
Aside from the on-site coffee tour, day-trip ideas include: Dray Sap & Dray Nur waterfalls, Ako Dong village, Ban Don Village, Yok Don National Park and Lak Lake. Below are some photos from Yok Don National Park, about a 1.5-hour drive from the resort.
I hired a French-speaking guide, Mr. Duong Dinh Toan, from Dang Le Tourist to take me to Yok Don National Park on Saturday and Lak Lake on Sunday morning. Toan was a fantastic guide. If you speak French or Vietnamese, contact him at toandd[at]dangleco.com.vn
The drive to Lak Lake was scenic, particularly in the last 15km of the 60km trip. It was a nice way to spend Sunday morning and afternoon, although there was a bit of a tourist racket happening there which I'll expound upon in a later post.
Reflecting
I would absolutely go back to Buon Ma Thout. It was refreshing to be somewhere with cooler weather, and the relaxed vibe was a nice change of pace from Ho Chi Minh City . If I go back by myself, I would stay at the Resort Coffee Tour again, and I'd take a day trip to see Dray Sap waterfall and Ako Dong Village. Other than that, I'd just stay at the resort and do some writing.
I can't picture myself going to Buon Ma Thout with two small children. My son would love running around the resort and doing the coffee tour, but after a few hours of that he'd probably get bored. I would need to bring along a scooter and lots of outdoor games and toys to keep him busy.
The attractions of the area, aside from the two Ede villages, are all at least 50km away. The activities, such as riding an elephant or trekking in Yok Don National Park, would be difficult with young children. There would be a lot of time spent in the car. It's a more suitable destination for older children and teenagers who want to spend a few days camping, trekking, and looking for wildlife in the dense jungle at Yok Don.
So for now, I'll add Buon Ma Thout to the list of "Mom's away" locations. My first getaway was a success!