Tourist Shopping Guide: Top 10 Souvenirs from Pakistan

In order to truly experience Pakistan, you should shop in a traditional open-air bazaar. Be prepared for a sensory overload and some tough bargaining. I lived in Pakistan for over three years, and I have spent countless hours haggling in bazaars. Here are my top 10 choices for souvenirs from all over the country.
1) Shawls
Pakistani women wear gorgeous colorful shawls during cooler weather. You can buy soft solid colored shawls to match a favorite coat, or you can buy bold patterned shawls with sequins and exquisite embroidery. Shawls come in two sizes, small and large. The large ones are called stoles, and honestly they would probably be too big to actually wear in the West. Alternatively stoles make great wall hangings, curtains, tablecloths and bed coverings. A typical shawl will set you back about 300 rupees ($3.75), is easy to pack and will be a sure hit with any ladies back home.

2) Multan Pottery
Handmade pottery from Multan, in Punjab, is a treat for the eyes. Traditionally the pottery is made in blue and white with floral decorations, but you can also find different designs and colors. For the best prices, go to Multan, but the pottery can be bought in the bazaars of any major city.
3) Embroidered Bedsheets
In Pakistan, bedsheets are usually custom made and are very affordable. Pop into any bedsheet store and pick out a pattern on one of their large rolls. Usually you can get the bedsheets and the pillowcases sewn up within a few hours. If you want something really nice, check out designer home décor at Bareeze or Chen One.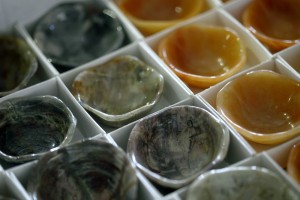 4) Onyx
This may be one of the only souvenirs you can buy in Pakistan but not in India. Pakistan is famous for black onyx. It's not the cheapest souvenir, but if you want something different go for a vase or box in black onyx.
5) Carved Wood
Carved inlaid wood can be found in any traditional bazaar where furniture is sold. You can also find carved wooden souvenirs inside tourist emporiums, although you'll pay a bit more to buy it there. Vases, boxes, and chess sets are popular souvenirs.
6) Classic Photo
You will notice that in Pakistan there are men with guns almost everywhere, and the weapon of choice is the AK-47. Before leaving, you should take a picture of yourself armed to the teeth in true Pakistani fashion. Preferably get a local to pose with you. Mom and Grandma may not enjoy this souvenir, but your friends surely will. Just don't let these photo souvenirs get into the hands of the CIA.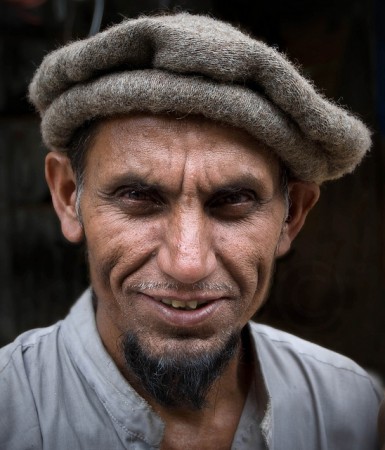 7) Men's Felt Hats
In Northern Pakistan, many men wear curled felt hats to protect them from the cold. They are similar to a French beret but are more fitted. You can buy a felt hat for just a few hundred rupees.
8) Stone Jewelry
Precious and semi-precious stones are mined all over Northern Pakistan. In the Gilgit bazaar I love to buy stone earring and necklace sets, for less than $2 each. You can buy rubies, emeralds, sapphires and other gems for less than in the United States. In the North, there is a cooperative in Karimabad that has excellent prices and products. This jewelry has a traditional flair to it. Otherwise, you can get gold jewelry at different dealers in any major city. Liberty Market, Lahore is famous for gold jewelry.
9) Wall Hanging
Traditional Sindhi handiwork makes an amazing wall hanging that can serve a conversation piece for your living room or add some style to a bedroom. Keep in mind that there are two types, the regular type that is made to look rough and antique, and the type marketed for tourists that uses bolder, brighter colors and doesn't have so many rough edges.
10) Carpets
If you've got money to spend, a carpet is a great souvenir. Carpets, especially from Afghanistan or Iran, are not cheap but they are beautiful. Prices vary considerably by the density of the threads per square inch, and carpet buying is best done with a local Pakistani friend.
Hope you enjoy your trip to Pakistan, and make sure you leave room in your suitcase for all the amazing souvenirs you'll be bringing home.
Images
Shawls by Ashley Wang
Onyx bowls by Cobalt123
Felt hat by Olivier Galibert