Saigon Getaway: Bali with Kids

This coming weekend, we'll be flying from Vietnam to Bali, Indonesia with the kids. Our school has a week-long October break, and since this is our only break during the school year where it's not the rainy season in Bali, I decided to finally use up my Singapore Airlines miles and get one of the adult tickets for free.
Getting There
This will be our most ambitious trip so far within Southeast Asia. Usually I choose destinations that only take one flight to get to, but for Bali, it takes two flights. Since we are traveling on Singapore Airlines, we'll fly from Ho Chi Minh City to Changi International Airport in Singapore, a 2-hour flight, and then from Singapore to Denpasar, Bali which is a 2.5-hour flight. You could also fly via Jakarta, Bangkok or Kuala Lumpur.
I don't like to leave early in the morning with the kids, so we fly out around noon and arrive in Bali at 19:10 local time. We'll have a 1-hour layover in Singapore; I'm excited about it since that airport is fantastic for kids with the playgrounds and baby facilities. On the way back, we have a similar schedule with a flight from Bali around 13:00 and an arrival in Ho Chi Minh City at 18:40.
Location
When I first started looking into a vacation in Bali, I was overwhelmed with all the different areas and different beaches. Finally I decided to start off with 2 nights near the beach in Sanur and then to head to the cultural center of Ubud for 3 days. If the kids were a bit older, I would have liked to stay longer, but I've found 5 or 6 days tends to be the point where I'm ready to go home.
I felt like Sanur beach would offer a good mix of facilities while not being as touristy and crowded as Kuta. I was intrigued by some of the smaller fishing villages on the northeast coast, however, from what I read it would be more difficult to find a variety of restaurants and baby supplies there. Since our kids aren't old enough for snorkeling or other more adventurous activities, I decided to go for a beach known for calm, shallow water.
Everything I read suggested spending time in Ubud. I haven't put together a list of activities yet, but I am looking forward to the scenery, restaurants, and shopping.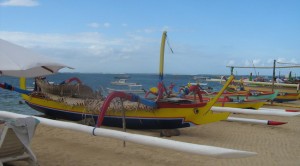 Where We're Staying
I like to stay in smaller establishments that have a lot of character, are located in a quiet area, and have access to a kitchenette and pool. Having good reviews from other families with young children is also something I look for. I don't mind staying a bit further from the city if the setting of the hotel is interesting and has a lot of green space.
In Sanur, I looked at tons of hotels and villas on or near the beach. Eventually I decided to book 2 nights at Apel Villa Sanur, a newer establishment only 15 minutes from Denpasar Airport. I booked a 2-bedroom suite, but they also have regular rooms and 4-bedroom villas. Full review to follow when we get back, but you can learn more here:
Apel Villa Sanur website
reviews on Trip Advisor
Another place I considered was Little Pond Homestay, however they didn't have any cribs available for the baby.
I'm really excited to stay at Ubad Retreat in Ubud based on the fantastic reviews on Agoda. I booked two rooms so that we have plenty of space, and they will provide a baby crib (called "baby cot" most places in Asia). They also have babysitting service available at IDR 75,000 ($6.15) hour for minimum 2 hours. It's located about a 10-minute drive from the main town, but there are 4 daily free shuttle buses.
Resources
Here are some of the websites I found helpful in planning the trip.
Bali Travel Guide – Travelfish
Best Beaches on Bali – My Little Nomads
Southeast Asia with Kids – Our Travel Lifestyle
Top 10 Things to Do in Bali with Kids – Vagabond Family
Top Kid Friendly Restaurants in Asia – Little Steps Asia
Or check out all my Bali travel idea pins on Pinterest!
Visit Heather's profile on Pinterest.
Post Images
Feature Photo of Ubud by Yves Picq
Sanur Beach photo by Dan Arndt