Hernia Repair Surgery in Vietnam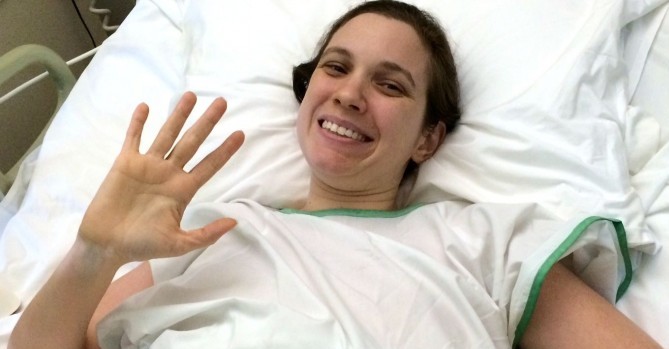 I just returned home after getting laparoscopic hernia repair surgery for an abdominal hernia at FV Hospital in Ho Chi Minh City.
What happened?
About 10 days ago, I had a nasty bout of food poisoning. A few days later, I noticed a strange, tender lump in my stomach, directly above the belly button. It stuck out from my stomach, but I could push it in and move it around a little bit. When it got enlarged, I needed to lie down to prevent getting dizzy.
After doing a bit of searching for "lump in stomach after pregnancy," I guessed that what I had was an irreducible hernia. I went first to see my OB-GYN at Hanh Phuc Hospital, and he immediately thought it was a hernia. He explained that the hernia would have come about during the pregnancy and was likely agitated by the pressure on my abdomen during the food poisoning. He referred me to FV Hospital in District 7 where I made an appointment with Dr. Thai in General Surgery.
Dr. Thai examined my stomach and confirmed that I had two hernias, both irreducible and needing surgery to repair. He suggested doing the surgery as soon it could be arranged in order to avoid needing an emergency surgery for a strangulated hernia. That is when the hernia gets twisted and has its blood supply cut off. If not repaired, the bowel can turn gangrene in 6 hours. This was a pretty scary diagnosis, especially considering that I have two small kids at home who are always prompting me to make sudden movements and lift them up. He pushed my intestine back "in" temporarily, but the next day it was already coming back out. The lump in my stomach was getting larger, and you could even see the lump sticking out from across the room. Dr. Thai said it wasn't urgent, however I felt like every day I waited was a day that I couldn't do anything; I couldn't go to work or take care of the kids.
While I waited for the insurance company to approve the surgery, I basically couldn't do much. I arranged for the kids to get taken care of while I was in the hospital, and thanks to our two fantastic nannies I was even able get a full night of sleep before the surgery. I showed my son (age 3.5) some drawings of a hernia, and he decided to give me his own check up and "operation" with the kitchen tongs which was really cute.
How was the surgery?
After a one-day delay due to waiting for insurance approval, I had the surgery at FV Hospital in Ho Chi Minh City. It was a 2-hour procedure under general anesthesia and the cost was around $8000; the costly items are the mesh and the tools used for the laparoscopic surgery as compared to the open surgery method. Originally I wasn't sure if this procedure could be done in Ho Chi Minh City, so I also got an estimate from Bumrungrad International in Bangkok which was slightly higher than what it cost at FV Hospital. I was really happy that I was able to stay in Vietnam to have the surgery rather than to go to Bangkok or Singapore.
Dr. Thai made four small incisions in order to insert the mesh for the hernia repair. It took a full 24 hours until I was able to get out of bed and walk with assistance. Although the insurance only approved 2 nights for recovery, I didn't feel up for going home until 3 nights afterward. I had been very shaky and still having some nausea. When I left, I still had them wheel me out in a wheelchair so that I didn't expend all my energy.
Overall I was impressed with the the staff at FV Hospital. Dr. Thai spoke English, French, and Vietnamese fluently and was able to clearly explain to me my options for the surgery. He came to check on me every day afterward and answered all my questions. The nurses spoke English and/or French very well. I was impressed with the level of care I received, and I had no problems staying there overnight by myself. Someone was always available to help me when I needed it. The whole process with payment and insurance was transparent, and the insurance officer for my case was constantly updating me while we waited for the approval.
How is the recovery going?
I'm now home, but I can't lift anything even the baby (age 7 months). One of our nannies is staying overnight for the next few nights until I'm able to care for the baby on my own. Right now, it's pretty painful to breastfeed because of how wiggly the baby is and how much pressure she puts on my stomach. If I try side-lying, she ends up kicking me in the stomach where the stitches are. Now I'm just pumping to try to keep the milk supply up, and hopefully tomorrow I'll be able to nurse her more.
The doctor recommended I stay home from work for about 4 days, so I'll be back to teaching full-time next week. I'll be trying to walk a little more and move a little faster every day so I can handle the 6 flights of stairs at school! I have a follow-up appointment with Dr. Thai next week to check on how my incisions are healing.
In the meantime, my son has been giving me lots of crackers, kisses, and a pillow for my back to help my "tummy feel better." Hopefully I'll be back at 100% soon!