Saigon Getaway: Mekong Lodge at Cai Be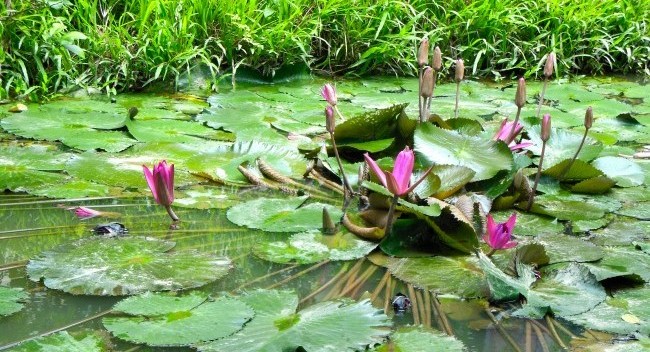 During our school October break, we spent 3 days/2 nights at the Mekong Lodge at Cai Be. I booked this place because it had strong reviews on Agoda and Trip Advisor, seemed family friendly, and is only 2.5 hours drive from Ho Chi Minh City.
I was looking for a place where we could get away from the city, relax, and get out in nature for a few days. We booked the 3 day/2 night package which cost $75 per person / per day (for adults, our 2-year old was free), included all meals, a triple room bungalow with private pool, and a full program of activities.
Getting There
We opted to hire a private car through Mekong Loge. It cost $70 for one way. On the way there, we had a nice Ford Escape. The driver picked us up at our house and was about 5 minutes early. The drive took 2 hours and 15 minutes to get to Cai Be port. Then we got on a boat to travel the last 15 minutes to Mekong Lodge.
The manager had told me that they did have child-sized life jackets. This was true for the ride from the port to the lodge, however the lifejacket did not appear again for any of our other boat trips that were included in the package tour. The Mekong is a murky and fast moving river, and I definitely wouldn't want to go in boats without a lifejacket for Gabriel. We'd brought our own Puddle Jumper, which can serve as a lifejacket, but we would have been in trouble if we didn't bring it.
The Room
Our triple room bungalow had a river view and was quite spacious. The bungalows in the new wing (pool wing) are set up with two bungalows in each building. We had one king-size bed and one single bed. The coolest part about the room was the large open-air bathroom with a wooden tub shaped like a boat. Gabriel takes after me in that he loves to discover new places. He ran right into the bathroom and was totally stoked about the boat tub!
Towels, toiletries and ear plugs were provided. I worried a bit about the earplugs, and for good reason. Boats run up and down the Mekong ALL NIGHT. Many of the engines are as loud as a helicopter. Since our bungalow was right on the river, even earplugs couldn't help me sleep. D and Gabriel slept fine, however I was woken up multiple times on both nights. I think the key to staying at Mekong Lodge would be to choose a bungalow all the way at the back, behind the restaurant. These are called "garden view" rooms.
The Lodge
The Lodge has large grounds with lots of gardens. It's set right on the Mekong River, and the only way to get to it is by boat. The grounds are split up into the old wing and the new wing. The old wing bungalows don't have private pools and are more popular with tour groups. The new wing rooms all have private pools and are more popular with solo travelers, couples and families. There are two different restaurants, one for each wing.
Since it's isolated, the only place to eat is really at the lodge. We got the accommodation package that included all meals, and we just signed for drinks during our 3-day stay and paid for our tab at the end. Gabriel loved the fresh coconut and the mango smoothies, which you can have delivered to your bungalow and drink by the pool.
The Tour Program
The tour program included a bicycle tour, a cultural show, a brick factory, a coconut candy factory, an antique house and a pagoda. The first day's program usually is done by bicycle, but we decided to go by boat instead because there were not proper child seats for the bicycles. The manager had told me that they did have bicycle seats for 2-year-olds, but when we got there we saw the solution offered was to tie our son to a back bicycle seat with a shawl.
We were doubly glad we opted for the boat instead, because the small dirt lanes around the island where the other guests cycled were bumpy, busy with motorbikes (and often too narrow for a bicycle and a motorbike), and hemmed in by barbed wire. At several points the cyclists had to cross narrow cement bridges with no railings. Our guide told us of one tourist who was cycling the island with another hotel and fell off a bridge into the water. I wouldn't recommend cycling this route with children, and I'm not sure I would have enjoyed it as an adult considering all the potential hazards and how bumpy the path was.
On a positive side, the music and cultural performance was lovely. During one song, the two women singing produced tears as they acted out the grief of mother and daughter on the eve of the daughter's wedding. Our son started crying; he was so empathetic toward the singers!
I didn't go to the coconut candy factory, but my husband said our son loved it. They sampled all sorts of sweets, and my husband bought Gabriel a coconut tea set (400,000 VND – $20) which he LOVES to play with. We did a lot of tea drinking during the trip, and Gabriel enjoyed sipping tea from the small glasses.
I could have passed on the brick factory, as getting on and off the boat there was pretty sketchy and there were a lot of dogs running around and itching as if they had fleas.
The antique house was cool, and it made a nice photo backdrop for some headshots of Gabriel. We decided to skip the pagoda visit. Our guide, Mr. Hau, was nice and spoke English fairly well. He gave us a lot of background information about the culture, traditions and industry of the area.
The Food
All meals were included with the package. The restaurant was comfortable and they did have child seats appropriate for older toddlers. My favorite dishes were the fried fish with fresh spring rolls, wonton soup, pork in a clay pot.
Dishes were freshly made in an open kitchen, and all of the meals were 3 or 4 courses. With a toddler, this was a bit rough, as he was often done with sitting at the table before the main course came. We learned to get through the first courses quickly and be more proactive in asking the wait staff to bring us the next course.
I found the food to be some of the best I've had in the Mekong, however my husband did not like how much of it was overly salty and jarred sauces were used instead of homemade ones. When I attended the evening cooking class, the manager assured us they did not add any straight MSG to the dishes, however they were using Maggi brand sauces and some package mix seasonings which often DO contain MSG. There are few restaurants in Vietnam that will be completely MSG-free, so we consider our traveling times as an 'annual MSG allowance"!
Conclusion
Overall, it was nice to get out of the city and spend some time in the Mekong Delta. The bungalows had character, and Gabriel loved the private pool, the mosquito nets, and the wooden boat bath tub. The food was good (and plentiful), the grounds were beautiful, and the service was decent.
I was hoping Mekong Lodge at Cai Be would be a place I would want to go back to for weekend getaways, however now that I've spent two nights listening to loud diesel engines on the Mekong, I think I've had enough. Because the mattresses were firm and the noise was too much for me to be able to sleep, it just wasn't restful.
We were disappointed with our travel arrangements on the way back to Saigon. We had pre-paid for a private car, and instead of a comfortable SUV like we got on the way there, they had arranged a minibus. Although we were the only ones in the bus, it was very bumpy. We had stayed late and purchased an extra lunch so we could ride back during Gabriel's nap time, but it was so bumpy it took him over an hour to fall asleep. Once he was asleep, I had to cradle his head to prevent him from bumping around. Being 21 weeks pregnant, the narrow seats made the ride even more uncomfortable. We did write to the manager about this, and he apologized for not understanding that this vehicle was not 'appropriate' for our needs and offered a $20 refund as we'd paid $70 for the private car. Hopefully the staff will be more aware in the future, and if you book a private car, you'll actually get a car and not the bumpy shuttle bus.
This property gets rave reviews on Trip Advisor and Agoda. I do recommend going there if you haven't had the Mekong Delta experience yet.
Some tips to make this trip work well with young kids:
– Bring your own lifejacket
– Book your own transport from Saigon to Cai Be port and back
– Don't plan on doing the bicycle trip
– Bring child cutlery (none available)
– Bring your own bug spray
– Bring earplugs
– Book a room as far from the river as possible!