Thap Ba Hot Springs near Nha Trang, Vietnam
Our favorite activity when we visited Nha Trang was visiting Thap Ba Hot Springs. Although the name "Thap Ba" can refer to an entire area where thermal spa treatments are available, THE Thap Ba Hot Springs at 15 Ngoc Son, Ngoc Hiep, is a specific place with very large facilities, several pools, and many options for communal and private mud baths.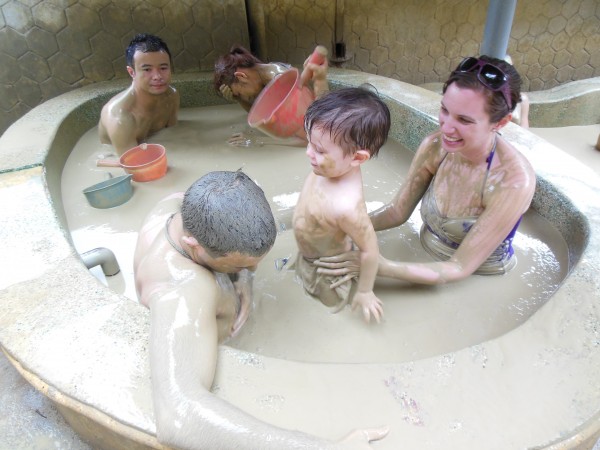 15 minutes in the communal mud bath costs 120,000 dong ($6) per adult and 60,000 VND ($3) per child. Our son was free (he's almost two), although I can't remember what the exact cutoff was.
You can also get private mudbaths for 1 to 8 people, but it's more expensive per person. For example, a private mudbath for two costs 500,000 VND ($25).
What I found amazing is that before a new group goes into the communal mud, an attendant drains the mud, washes out the basin, and then fills it with new mud from a tap. Clean mud – coming out a faucet! That's something I'd never imagined before.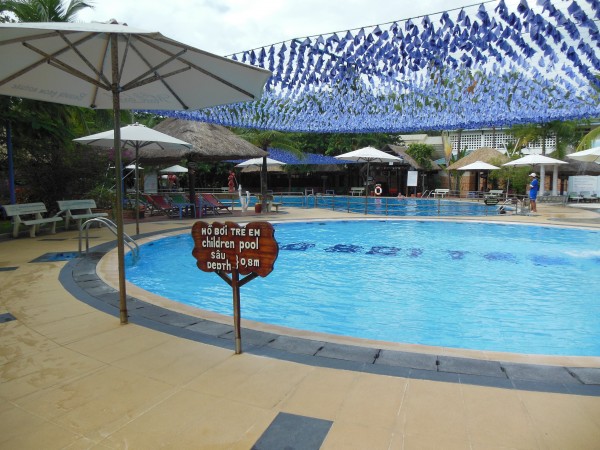 In addition to the mud bath, Thap Ba Hot Springs has four pools: a cool kid's pool; a cool adult's pool; a thermal heated kids' pool; and a thermal heated adults' pool.
The photo above shows the kid's thermal mineral pool. The water was the perfect depth for a toddler. We actually spent most of our time at the kid's cool mineral pool since it was away from everything else and had some fun slides for Gabriel. We literally had the pool to ourselves for hours.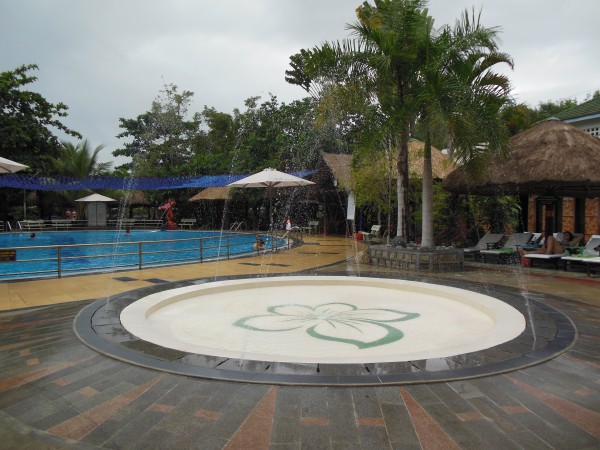 In addition to the four large pools, Thap Ba also has a sprinkler and a waterfall area. Our son Gabriel was really funny because he wanted to go in the waterfall and stand under the warm water like everyone else, so he climbed into the pool and swam right over to the waterfall. Then he just stood up and backed right up under the water! He was wearing a hat though, so that got completely soaked.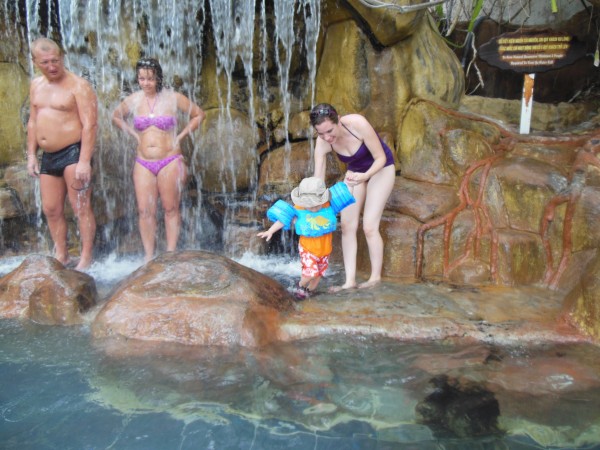 If Gabriel didn't need to go back to the hotel for an afternoon nap, we could have stayed at Thap Ba all day. It was relaxing because the kid pools were perfect for toddlers, and Duarte and I could take turns exploring the other areas. We did have our nanny with us to help too, but since she doesn't swim either my husband or I also stayed with Gabriel.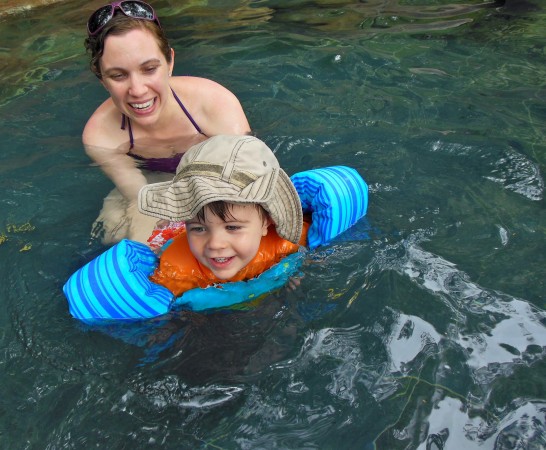 Practical Info:
You can get there by a 15-20 minute taxi ride from Nha Trang's beach area. Don't just say "Thap Ba" as the driver may bring you somewhere else. Be sure to give the driver the exact address. Take a taxi with a meter. Mai Linh or Vina Sun are two reputable companies.
Towels are available to rent, and you can get lockers to keep your things.
We totally missed it, but there is also a hot mineral pool and a jacuzzi. If you want, you can get massage or use the sauna.
It is small enough that you can get by without a stroller if your child is walking on his own. For a baby, you'll want a stroller with a sun shade.
A restaurant is located on site, so you can plan to spend lunch there if you'd like.
The mud is difficult to get off, so if you have a toddler, you may want to let him go in the mudbath in just a swim diaper. The cups for pouring the mud are too large for a small child to handle, so I'd also suggest bringing some small cups or buckets so he can play with the mud.
If you don't want to do the mud bath, it is still totally worth going for the excellent pools and relaxing atmosphere.
Website: Thap Ba Hot Spring Center